Collagen - what it is and how to get it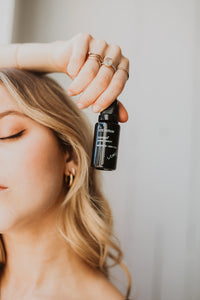 Collagen is the main protein in skin's connective tissue. As we age, the lack of collagen in the body causes sagging. Rebuilding those collagen reserves results in firmer and younger looking skin. 
Recent innovations have led skincare aficionados to serums and creams that feature collagen as an ingredient - and most recently, ingestible powders and supplements. 
Is mixing a scoop of collagen powder into your morning coffee or tea going to produce collagen in the body - and make you look and feel younger? The jury is definitely still out on this. A lot of MDs say that collagen powders don't do anything to help build collagen in the body. We don't see any harm in using this type of collagen supplement, but we wanted to offer some thoughts and possible alternatives.
When you see collagen listed as an ingredient in powders, supplements - and even skincare - it almost always comes from animal sources: beef, pork, and fish. Marine collagen, which is in so many skincare products and sounds oh so innocent, actually comes from fish scales! The problem with this, even for meat eaters, is that we don't necessarily know if the animals this collagen is obtained from are being treated in an ethical manner, how they are raised, or what they are fed.
Team Kahina has a few ways to get our "fix" and give our bodies the boost they need to produce more collagen. Our favorite way is of course, through high quality plant-based skincare ingredients applied topically. Rather than including collagen as an actual ingredient in our products, we have worked with our team of experienced chemists and researchers to find the latest ways to boost collagen in the skin. 
One such ingredient is a potent marine microalgae sustainably produced using the latest in green farming technology. This microalgae provides a rich source of bio-available carotenoids, essential fatty acids, and sterols with proven anti-wrinkle activity, that encourage the skin to produce collagen. Unlike the marine collagen that you often see in skincare, this unique collagen building ingredient is 100% plant based. We were so excited about this new breakthrough ingredient that we reformulated one of Kahina's star products to include it - our Restorative Serum. 
Our customer favorite Restorative Serum already had an impressive roster of ingredients including collagen-building Vitamin C rich Sea Buckthorn Seed Oil and this new active takes it to the next level. "Snatched" jawline, here we come!!
The area which tends to show age first is around the eyes. Both our Eye Serum and Eye Cream contain Hexapeptide 11, a plant-based form of collagen that features a unique lineup of amino acids that encourage collagen production. It isn't a common skincare ingredient but it is powerful. We love to layer the Eye Cream over the Eye Serum for a one-two punch to help improve the look of dark circles (the Eye Serum gets raves from customers fighting the war on undereye circles!) and fine lines and wrinkles.
Kahina Antioxidant Mask is a fantastic way to treat yourself to a weekly or bi-weekly home facial that helps to decongest pores and provide gentle exfoliation. Even fans of this super popular mask may not know that the Rhassoul Clay responsible for much of the magic of this product contains a large volume of silica - a substance the body needs to make collagen. Silica is actually also found in many foods like bananas and leafy greens.
And speaking of food (a favorite subject here at Kahina HQ), we love to compliment our skincare routines by adding collagen rich foods to our diets.  All of the most collagen rich foods are things we already love and that nourish us in many other ways including:
Leafy Greens - Kale, spinach, and chard…all of these good-for-you greens are full of Vitamins A, C and K. The major collagen production hero here though is the very thing that gives greens their beautiful emerald tone - chlorophyll. Studies have shown that chlorophyll helps build collagen in the body like a boss. Leafy green veggies also contain lutein, which has been shown to help with skin elasticity. Tossing some spinach into your morning smoothie is easy!
Berries - While we're on the subject of smoothies, our fave smoothie ingredient - berries - are wonderful little collagen boosters too. This is due to a high concentration of Vitamin C. Citrus fruits like grapefruit and oranges are well known Vitamin C superstars, but don't sleep on berries! Strawberries actually have more Vitamin C than oranges. Raspberries, blueberries and blackberries are good sources of this skin loving vitamin too.
Eggs - They make for an easy and delicious breakfast scramble, and we love to add all those gorgeous greens mentioned above to ours. Egg whites in particular offer a substantial dose of proline, which is one of the amino acids the body requires for collagen production.

  
All protein sources are actually good for building collagen in the body - but it is often the parts we discard that have the biggest impact. Having your lunchtime portion of salmon with the skin on is not only delicious but packs a bigger collagen building punch than the skinless version.
Here's a smoothie recipe we love that features some of our favorite collagen producing foods. We can't promise it will firm your jawline (though drinking through a straw may help tone the area) - but it tastes great and will definitely help your skin look its best. We don't usually measure exactly, so feel free to play around with the amounts to get it to your liking. If you have other recipes to share featuring collagen boosting foods please drop a comment - we'd love to try them! 
Kahina Collagen Builder Breakfast Smoothie
½ cup sliced Strawberries
1 cup Frozen cauliflower rice (this is a Vitamin C packed substitute for ice cubes and you don't taste it!)
Handful of spinach
2 tsp cashew butter 
8 oz. Almond or other plant based milk 
Splash of vanilla extract
1 tsp raw honey