Katharine's Winter to Spring Skincare Routine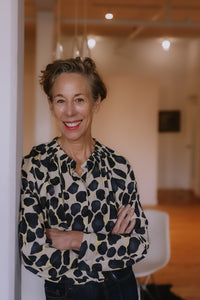 While we don't really believe in separate product categories for different seasons, or for men and women for that matter, there are some ways you can tweak your KAHINA routine to fit the changing season, which can be especially hard on skin. Our skin is feeling particularly dry and in need of support after this winter (was it especially cold or is that in our imagination?). As we head into warmer weather and more humid conditions, skin can handle a little less moisture and more active ingredients, but for now, our focus is on shedding dead skin cells leftover from winter with gentle exfoliation, stimulating cell regeneration and moisturization. KAHINA's gentle and nourishing line of skincare products are just right for this time of year.
Here's Katharine's Winter to Spring KAHINA routine.
1. First, I shed dull winter layers of skin with KAHINA's exfoliating and detoxifying Antioxidant Mask. This is like my deep spring cleanse for skin. The rhassoul clay in this mask draws impurities from the skin and provides just the right amount of physical exfoliant without harming the protective layer, while AHAs in lactic acid stimulate cell turnover. Skin is supported and moisturized with argan oil, while a heavy dose of antioxidants in pomegranate and acai protect skin again sun exposure. I do this 1 to 2 times per week.

2. Nightly, I use the KAHINA Facial Cleanser, a gentle, anti-inflammatory milky cleanser that doesn't strip skin of natural oils.  The lovely light scent of neroli reminds me of spring when the weather outside doesn't feel much like it. If I'm not feeling lazy or have been wearing makeup, I'll do a double cleanse starting with the KAHINA Oil Cleanser.

3. Gently tone and hydrate with the KAHINA Toning Mist, a sodium hyaluronate-infused spray with alfalfa seed extract, which serves as a natural retinol to encourage cell turnover. This really plumps my skin when it is dehydrated to reduce fine lines and shrink pores. It is an important step prior to applying oils so that they don't sit on my skin. 

4. Then, I massage 1 - 2 pumps of the KAHINA Brightening Serum into my skin to boost radiance and prevent dark spots from happening as I will be  spending more time in the sun soon!

6. I always follow with an oil, and right now I'm loving our newly reformulated Restorative Serum to build collagen, brighten and nourish my skin with active ingredients such as licorice and marshmallow root in a blend of antioxidant rich oils like argan, prickly pear, carrot seed, and seabuckthorn seed. This is one of the first products KAHINA ever introduced, and while the formula has changed over the years, the scent never has. I am addicted to it!
7. After oil application, I massage the KAHINA Face Cream into my skin to deliver moisture and antioxidant rich polyphenols to fight free radicals that cause signs of aging, sealing it in and protecting my skin's barrier with shea butter.
8. My skin is extremely dry right now, so I'm opting for a little extra moisture at night. Before bed, I'll apply a layer of the Moisture Mask or the Lip & Face Balm to leave on overnight (see our post on slugging here).
Through April 4, receive a FREE Antioxidant Mask with your purchase of $100 or more. No code required.