Skincare for our favorite season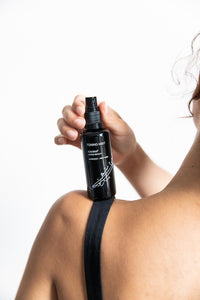 Summer is here at last! We are ready for spending lots of time outdoors gardening, swimming and hiking as well as just laying back and soaking up the summer sun (with SPF, of course). It's a time when we don't want to spend too much time fussing with our skincare. But the combination of summer's heat and humidity (or dry heat depending on your climate), water and sunscreen call for some special care. Deep cleansing followed by lightweight moisture is important now. For those in drier climates or who spend a lot of time in the water (like yours truly), more moisture is key. Beyond physically protecting your skin from the harmful UV rays, there is more you can do to make sure you are protecting your skin at the cellular level from the aging and cancer causing effects of the sun.
1) Make sure to thoroughly remove pore clogging buildup from sunscreen with a thorough cleanse each evening using our Oil Cleanser followed by a second cleanse with our Facial Cleanser. The Oil Cleanser will effectively remove oil buildup from SPF and makeup. The Facial Cleanser will gently and thoroughly cleanse any remaining product or debris. Both products have antibacterial and anti-inflammatory effects and are ideal for dry and/or sensitive skin.
2.) Spritz face with our Toning Mist to refine skin tone, plump and calm skin while prepping the skin for oil application (a must). With a base of aloe vera, our Toning Mist works wonders for relieving skin after too much time in the sun. Spray it on throughout the day at your computer or by the beach to revitalize and refresh. Since the Toning Mist is a hydrosol boosted with sodium hyaluronate, it will allow the application of oils to absorb more readily into skin.
3.) One of our most active products, Kahina Brightening Serum works to regulate melanin production and reduce hyperpigmentation, meaning fewer dark spots and discoloration later as a result of time enjoying the sun now. Massage a couple pumps of this lightweight emulsion into skin prior to oil application so that the active ingredients, Sea Daffodil and Japanese Seaweed, can easily penetrate the skin surface. Studies have shown Sea Daffodil to reduce dark spots by up to 60% and Japanese Seaweed has been shown to inhibit melanin production up to 90% to prevent future discoloration
4.) We are firm believers in a less is more philosophy approach in the summertime. Keep moisturizing simple with lightweight, easily absorbed, yet nourishing Argan Oil. Massage two to three drops into skin of face and body, or mix it with the Brightening Serum. This multipurpose wonder is perfect for the summer months, especially when traveling. Run through hair to protect before getting in the water at the pool or ocean. After massaging argan oil onto your face, run any excess through the ends of tresses to tame frizz. Use as a body moisturizer and to condition nail cuticles. Mix it with your foundation to give skin a radiant, sun-kissed glow.
5.) When extra nourishment and repair is needed, especially needed after a day in the sun, apply our Face Cream to soften skin and seal in moisture and/or our calming Moisture Mask used overnight as a sleeping mask. This multi-tasker is so much more than just a moisturizing mask. It brightens, calms and boosts collagen. At Kahina we've nicknamed it the EVERYTHING Mask. Use it at night and wake up with plump, soft skin and a brighter complexion.