The Sweet Truth About Bitter Orange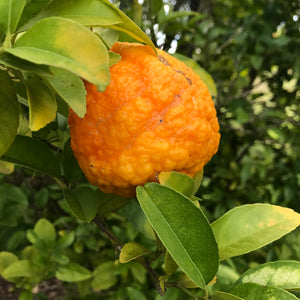 Did you know?
Orange Flower Water, Neroli, Orange Flower Blossom Oil and Petitgrain are all distillations from the bitter orange (Citrus aurantium). Neroli essential oil is the byproduct of steam distillation of the blossom. Orange Flower Blossom Oil is the absolute traditionally made by soaking the flower blossoms in animal fat. Petitgrain is an essential oil extracted from the leaves and twigs of the bitter orange tree.
The use of Orange Flower and Neroli is widespread in aromatherapy. It eases insomnia and depression and calms the nerves. Orange Flower symbolizes innocence, fertility and eternal love.
In Morocco
, orange flower water is a symbol of good luck. It is used is as a perfume or air freshener and is traditionally offered to guests to wash their hands upon entering the house or before drinking tea as a sign of welcome.
To distill the water, women pick the orange blossoms and put them in traditional baskets covered with a wet cloth to keep them moist. Then, the women prepare the
Katara
or still. The still consists of three parts; the bottom contains the water for the distillation, the second one the blossoms, and the third one is a container of cold water which has to be continually changed to create the steam that is part of the distillation process. Once distilled, the bottles are filled and left for forty days in a dark place to mature.
Traditional Katar used in steam distillation
Orange Flower Water is frequently used as an ingredient in Moroccan cooking. The following is a refreshing summer salad using orange flower water.
Moroccan salad with orange flower
4 large oranges, peeled 2 tablespoons of honey 1 tablespoon of orange juice ¼ teaspoon of orange flower water 1/8 teaspoon of cinnamon mint sprigs for decoration Peel the oranges and remove all the white strings with sharp knife. Cut the oranges in pieces horizontally.
 Warm the honey, add the orange juice and orange flower water. Pour the liquid over the cut oranges, let it cool, then keep covered in the refrigerator for 2-3 hours.
 Serve on separate plates, sprinkled with cinnamon. Garnish with fresh mint.
Instead of cinnamon, you can use rose water.