Our Moroccan Beldi Soap Now Available in Neroli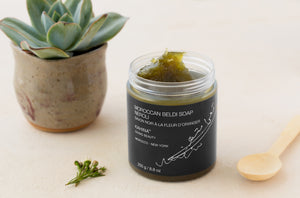 The fresh, sweet scent of Neroli, the steam distillation of orange flower blossoms, uplifts spirits and calms the nerves. Applied in our
Moroccan Beldi Soap with Neroli
, it will transform your shower or bath into a fragrant orange grove in full bloom. RECEIVE A COMPLIMENTARY WOODEN SERVING SPOON, HAND CARVED IN MOROCCO, WITH YOUR PURCHASE.
Byrdie.com calls it "the smartest soap out there."
Here's how it works:
Massage 1 tablespoon of Beldi Soap on to damp skin in shower or steam
Rinse off to cleanse skin
For a skin softening body mask, leave soap on skin for 5 to 10 minutes before rinsing
Moisten Kessa Mitt and rub skin in long upwards strokes in the direction of the heart to stimulate circulation and remove dead skin.
Delight in the scents of Morocco and the feeling of baby soft skin
The Beldi Soap and Kessa Mitt come straight from Morocco for a truly authentic experience. Shop our Beldi Soap with Neroli here.