The KAHINA™ Double Cleanse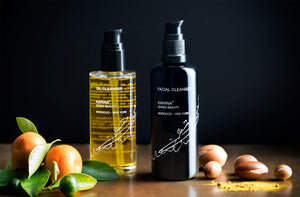 Spring is here at last. While we love the sunshine and additional time spent outdoors, we don't love the grimy residue that sunscreen leaves on our skin. If you are wearing a lot of sunscreen (and you should!) or makeup, a double cleanse is essential to remove deposits on your skin.
WHAT IS DOUBLE CLEANSING
Double cleansing involves using an oil-based cleanser to break down make-up, SPF and sebum on the surface of your skin first, then following it with a deeper water-based cleanse.
WHY DOUBLE CLEANSE
By using the new KAHINA™ Oil Cleanser as the first step of your morning and evening skincare routine, sebum and other oil-based impurities that a water-based cleanser cannot attach to — such as makeup and SPF - are effectively lifted away. By clearing away the oil barrier, the cleansing agents of the KAHINA™ Facial Cleanser will more effectively penetrate the layers of the skin to remove water-based impurities, such as toxins from sweat and environmental pollutants.
BENEFITS
By cleansing twice, you're ensuring that both the first layer of sebum, make-up, sunscreen and deeper layers of pore bacteria, which can all aggravate acne, are removed. For those with drier skin, a thorough double cleanse will allow our KAHINA™ oils, serums and creams to be more completely absorbed and get to work. Double cleansing is especially important if you're a city dweller exposed to high pollution levels daily, as these are known contributors to signs of aging. Double cleansing with KAHINA™ each evening will also brighten any dullness. The combination of anti-inflammatory Turmeric, Blue Tansy and Willowbark helps reduce redness, while Papaya enzymes stimulate cell turnover.
HOW TO DO IT
Morning and evening, apply KAHINA™ Oil Cleanser to dry skin. Massage it in for a minute to thoroughly remove make-up, pollution and buildup. Remove with a warm washcloth or rinse with warm water. Follow with the KAHINA™ Facial Cleanser, used as you would normally. This super gentle, pH balanced, alcohol and sulfate free water-based cleanser is ideally formulated to deeply cleanse pores to remove impurities.
Shop Our Cleansers here