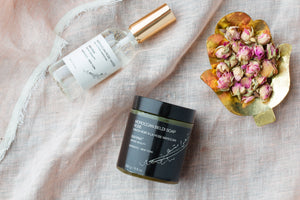 Don't just give Mom roses this year. Transport her to Morocco, while you're at it. Read the reviews for our Moroccan Rose Beldi Soap and Moroccan Rose Water.
KAHINA™ Moroccan Rose Water
is made from 100% Rose Damascena steam distilled from rose petals gathered in Morocco's Valley of Roses.
Moroccan Rose Water "I've enjoyed a variety of good quality rose hydrosols. I think Kahina's Moroccan Rose Water, though, is distinct. This is because when I spray this mist I feel that I'm getting a sense of both the rose flower and also the rich environment it came from. This is the first time I've experienced that with a hydrosol and I find it remarkable. This hydrosol seems to me to be excellent quality and I very much appreciate it." -- Marcey N.

Another FIRST for Kahina "Very heady scent of roses in this soothing spray, which lingers luxuriously!" -- Stevee S.

Moroccan rose water "I've tried many different brands of rose water but Kahina is the best. My husband always compliments me every time I spritz it on my face it smells nice." -- Lisa G.

Light and refreshing! "Love this product! Not only does it smell amazing, but it is perfectly light and and effective for a go to toner!" -- Lisa S.
KAHINA™ Moroccan Rose Beldi Soap
is a traditional skin cleansing and softening treatment direct from the famed hammams of Morocco. Made from saponified olive oil and scented with Rose essential oil.
Great results, great smell.

"Moroccan Rose Beldi Soap is just like all the other Kahina Giving Beauty products: earthy yet luxurious. I don't like products that are too perfumey. I love their argan oil for this reason-- it's rich and effective and smells natural. The soap comes in a jar and is a greenish black. It smells equally of olive oil and roses. I scoop up a little and rub it into my skin and let it sit a bit, then wash it off. As the water hits it it gets more like a regular soap texture. It leaves my skin clean and soft, subtly moisturized. The only problem with it is that it's sticky-- quite thick and hard to spread at first. But the smell and the way my skin feels is wonderful. A little goes a long way. A very pampering, elegant product." -- Katherine S.

Rose soap

"This soap makes my skin feel like I spent a day at the spa." -- Allyson W.

RoseBeldi Soap

"The scent is delicious and the soap is amazing, especially if you use it with the scrubby glove. I love it!!" -- Mary S.