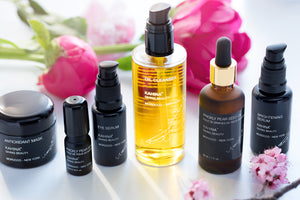 Put your best face forward with our radiance boosting skincare ritual
1. KAHINA™ Antioxidant Mask
Shed dull winter skin with this gently exfoliating Mask. Rhassoul Clay acts as a physical exfoliant, while lactic acid from lactobacillus ferment gently exfoliates and hydrates while promoting healthy bacteria on the skin. The addition of Argan Oil leaves skin moisturized and glowing.
2. KAHINA™ Oil Cleanser
Turmeric and Blue Tansy reduce inflammation to boost radiance in our gentle Oil Cleanser in a water soluble formula to wash away oils and acne-causing bacteria on the skin.
3. KAHINA™ Brightening Serum
Japanese Seaweed and White Lily combine to prevent hyper-pigmentation and reduce discoloration, creating more even-toned and radiant skin.
4. KAHINA™ Prickly Pear Seed Oil
Rich in vitamin K and E to moisturize and brighten skin while offering powerful antioxidant protection. Massage directly onto skin or mix with or layer under your favorite KAHINA™ moisturizer to boost moisture. Also available in our rollerball format for targeted application to the eye area to reduce puffiness and dark circles.
5. KAHINA™ Eye Serum
The addition of vitamin K-rich Prickly Pear Seed Oil to our Eye Serum works to minimize dark circles, while conditioning and strengthening the skin of the delicate eye area. Buckwheat extract helps to stimulate blood flow and improve circulation.