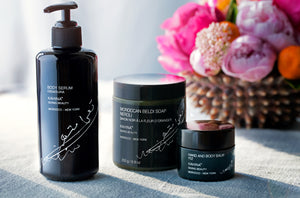 Our sublimely scented body products with leave your limbs silky smooth and ready for summer.
KAHINA™ "Essaouira" Body Serum
It's back! A spring and summer favorite! A moisturizing body oil rich in Vitamin E to replenish and restore dry skin and scented with a blend of pure steam distilled essential oils, Essaouira Body Serum is a fresh, crisp fragrance combining sophisticated floral notes with a hint of the exotic. Rose, lavender, herbaceous geranium and woodsy sandalwood provide a soft floral scent while petitgrain lifts and brightens.
KAHINA™ Moroccan Beldi Soap
Achieve the smoothest skin with our Beldi Soap and mitt ritual! Choose from our selection of all-natural scents, including Neroli, Damask Rose, and Eucalyptus. Our Moroccan Beldi Soap is a traditional cleansing and skin softening treatment direct from the famed hammams of Morocco. Made from saponified olive oil and steam distilled essential oils, the gel-like soap is naturally rich in vitamin E and can be used for cleansing or as a body masque to soften skin prior to exfoliation with the
Kahina Kessa Mitt
.
KAHINA™ "Fez" Hand and Body Balm
Healthy, glowing skin on the go! FEZ Hand and Body Balm is our richest moisturizer yet, with plant butters, oils, and beeswax to seal in moisture and protect skin from further irritation and dryness. Instantly restore and soften even severely dry, chapped skin with this nourishing salve for hands and body. The velvety base includes carrot seed oil, shea butter, coconut oil, olive oil, and mango nut butter to deeply moisturize, while Kahina's signature Fez scent blend evokes the sensuous and exotic city in Morocco with sandalwood, vetiver, rose and a hint of spice.