The Gold Standard in Skincare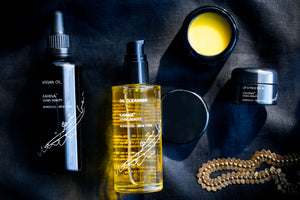 At KAHINA™ it begins with Argan Oil, also known as Morocco's "Liquid Gold". We carefully source our Argan Oil from high in the Anti-Atlas Mountains and closely monitor the harvesting and extraction process to ensure the highest quality oil, the protection of the argan forest, and the livelihood of the women who do the labor to collect and crack the nuts prior to cold-pressing. Also lovingly sourced from Morocco are our pure Prickly Pear Seed Oil, Rose Damascena, Rhassoul Clay, Neroli and Blue Tansy.
But it doesn't stop there, we source premiere ingredients from around the world, including Carrot Seed Oil from India, Calendula from Egypt, Helychrisum from France, Sea Buckthorn Seed from Lithuania, Sea Fennel from England, and Shea Butter from Uganda just to name a few. We go the extra mile to ensure the highest quality, often paying more than market rate for superior quality.
Each of our ingredients are sourced with an eye to environmental and social sustainability, using organic ingredients produced by small family farms and women's cooperatives when possible, with your health and the health of the planet in mind.
These ingredients are crafted into certified natural and organic formulations by our experienced chemist and manufactured in a state-of-the-art facility in the US. The result is effective and luxurious skincare that shines above the rest.