Our 2-step skin rejuvenating mask routine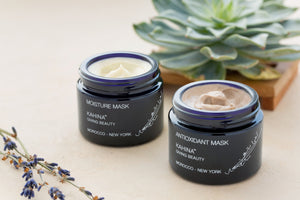 Longer nights mean more time for restorative repair, which is needed now more than ever as we transition to colder weather. Our Antioxidant Mask and Moisture Mask are the perfect combination to activate skin's rejuvenation and repair.

Start the double masking routine by applying a thin layer of KAHINA™ Antioxidant Mask. This unique clay mask detoxifies, draws out impurities and exfoliates without leaving skin dry and tight. This simple solution to healthy, glowing skin contains:
Rhassoul Clay – The slightly granular clay from Morocco's High Atlas Mountains boosts collagen production and gently removes surface sun-damaged cells to encourage brighter, smoother, more even toned skin.
AHA - from lactic acid works to dissolve dead cells on skins surface
Argan Oil – Our hero ingredient moisturizes skin, leaving it more supple and radiant.
•Acai and pomegranate – Deliver powerful antioxidant protection to fight free radical damage and reduce signs of aging... and summer fun!

After applying, leave it on for 15 minutes, then massage into skin to gently exfoliate before rinsing off to remove excess.

Next, with freshly exfoliated skin, it's time for a protective blanket of intense moisture. KAHINA™ Moisture Mask is a rich treatment that increases skin's water reserves to plump skin. Antioxidants go to work again to neutralize free radicals that contribute to signs of aging so fine lines and wrinkles are reduced and skin tone and texture is visibly improved. Three powerful ingredients join forces in this moisturizing mask:
•Prickly Pear Seed Oil - A KAHINA™ core ingredient, strengthens and moisturizes capillaries
•Resveratrol - From red wine grapes, protects the skin from environmental stressors such as pollutants and UV exposure
•Mushroom extract - Reduces redness, calms and soothes even the most sensitive skin

Layer Moisture Mask onto face and neck and relax for 15 minutes - or leave on overnight for a truly nourishing treatment that works as you sleep. Massage any excess into the skin.

Take time for double-masking to put your best face forward this season.