Your Six Step Solution For Dry Winter Skin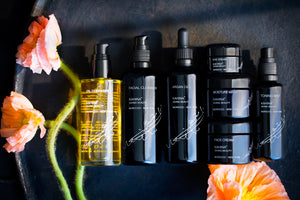 With the cold winter months fully settling in, your skin probably needs some extra help combatting dryness. Here's our tried and true six step solution to keep skin plumped and hydrated.
Step one:
Cleanse without drying skin with our two step cleansing routine. First massage a couple pumps of our award-winning
Oil Cleanser
into dry skin. Rinse with warm water or remove with washcloth. Use on its own or follow with our milky
Facial Cleanser
to remove any residue.
Step two:
Mist with one of our hydrosols to attract moisture into the skin. Our
Toning Mist
or pure
Moroccan Rose Water
are ideal choices to minimize pores, hydrate and calm skin and to assist in oil absorption.
Step three:
Moisturize with an oil or oil blend. We recommend our
Face Serum
for the driest skin.
Argan Oil
is ideal for those seeking to balance skin and
Prickly Pear Seed Oil
works to brighten skin and strengthen capillaries.
Step four:
Seal in moisture and hydrate with an emulsion. Our
Face Cream
works day and night to prevent signs of aging and deeply moisturize.
Step five:
Don't forget our
Eye Cream
to moisturize the sensitive eye area. Kahina Eye Cream relieves tension, moisturize and strengthen the skin around the eyes.
Step six:
For the most luxurious moisturizing treatment, use our
Moisture Mask
as a sleep mask overnight and wake up with a plump, moisturized, and brighter complexion.