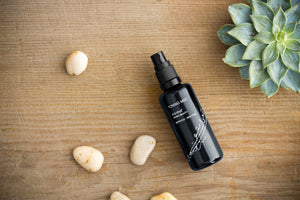 A mist is an important, but often overlooked, step in your skincare routine. Especially when you are using an oil as a moisturizer. Think of it this way: Oil and water don't mix. Our skin is primarily water. When we place oil on our skin, it needs a little help mixing with the water in our skin. By misting the face prior to oil application, you are basically creating an emulsion that will help the oil penetrate the top layer of the skin. But a mist can also be so much more! Our alcohol-free Toning Mist and Rose Water deliver lightweight hydration, antioxidants and antibacterial properties in a refreshing delivery system. Both help to plump, hydrate and tone skin. Which should you choose?
KAHINA™ Toning Mist
Non-animal derived Hyaluronate Acid is key to attracting and maintaining moisture in the skin to keep it smooth, soft and moisturized. This combines with soothing aloe vera and antioxidant rich argan leaf extract and green and white tea to firm, tone and hydrate skin. Willow Bark Extract and Aspen Bark extract reduce inflammation and are antibacterial.
"A few spritzes of this instantly moisturizes, minimizes the appearance of pores, and adds Cate Blanchett level radiance. The formula contains organic aloe vera to soften, willow and Aspen bark to tone, and organic white tea extract to protect the skin from free radicals."
-- Refinery 29
KAHINA™ Moroccan Rose Water
A simple yet decadent hydrosol steam distilled from Damask Rose petals harvested from Morocco's Ourika Valley. This is NOT simply distilled water with rose essential oil added. Our pure Rose Water is pharmaceutical grade, meaning it is the highest grade possible. Choose this if you are looking for a multipurpose single ingredient spray to remove makeup, target acne, and/or hydrate skin. It can also be used in your favorite DIY recipe. Here's one of ours: Mix with dry Rhassoul Clay to make a paste for a clay mask. Apply to skin and leave on to dry before washing off.
"I've enjoyed a variety of good quality rose hydrosols. I think Kahina's Moroccan Rose Water, though, is distinct. This is because when I spray this mist I feel that I'm getting a sense of both the rose flower and also the rich environment it came from. This is the first time I've experienced that with a hydrosol and I find it remarkable. This hydrosol seems to me to be excellent quality and I very much appreciate it."
-- Marcy N. Both are recommended for use after cleansing and prior to oil application and to spritz throughout the day whenever skin feels a bit dull.