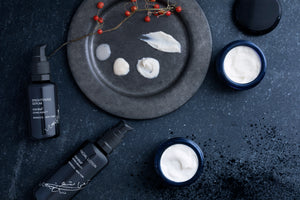 While the calendar says its spring, the weather isn't always cooperating. As we straddle cold winter days and the warmer days to come, skin's moisture needs can vary daily. Whether you need a light touch or heavy duty moisture, we have the lotion or cream to give skin the softening, plumping moisture boost it needs. Synthetic versions of emulsifiers (what binds water and oil together) are common, but the truth is many of these contain petroleum by-products that make your skin feel temporarily hydrated because they coat the outside layer of your skin, but they do nothing to support healthy skin. Our all-natural versions result in creams and lotions that rival any luxury version (did I hear you say Crème de la Mer?) and actually work to protect, repair and maintain healthy skin. Each of our emulsions provide added humectants to draw moisture deeply into the skin, plant butters and waxes that provide a protective surface barrier, along with your favorite nourishing plant oils like Argan Oil and Prickly Pear Seed Oil. Each delivers moisture in varying degrees and protects skin from environmental pollutants while keeping skin from drying out. All are great on their own, but we recommend layering over the oil of your choice for added moisture and antioxidants.
Facial Lotion:
This nourishing, yet easily absorbed lotion combines shea butter with argan oil and beeswax for a simple moisturizer suitable for all skin types. Sodium hyaluronate draws moisture deeply into the skin, where it is in sealed by our high quality organic shea butter sourced from a woman's cooperative in Uganda. Raspberry seed extract adds additional antioxidant protection. KAHINA Facial Lotion mattifies skin post oil application and makes an excellent primer for makeup. This unscented lotion makes an excellent solution for those with sensitive skin and anyone looking for a simple moisturizer to nourish and protect.
Face Cream
While this is a richer cream, don't be fooled! Its luxurious texture is easily absorbed by the skin to get right to work and won't clog pores. Formulated with calming, anti-inflammatory aloe vera as its base, KAHINA Face Cream is a velvety cream that incorporates the anti-aging properties of resveratrol and polyphenols from red wine grapes in combination with argan oil to to firm and lift, minimize the appearance of fine lines and wrinkles and moisturize for smoother, softer skin. For those seeking a luxurious moisturizer that effectively combats signs of aging, this cream can be used day and night to hydrate and repair. Scented with rose, geranium, lavender, neroli, blue tansy, and sandalwood to relax and calm.
Moisture Mask
This is a rich cream-like mask for the driest skin. Use this overnight treatment to deeply hydrate and plump skin, reduce redness, and refine skin tone and texture. Natural sugars work to increase skin's water reserves and improve skin barrier function. Argan and prickly pear seed oils deliver essential fatty acids, vitamins and potent antioxidants to neutralize free radicals that contribute to signs of aging. Resveratrol and polyphenols in red wine grapes provide powerful protection against skin aging. Mushroom extract soothes skin and reduces redness. For best results use as a sleeping mask or leave on for 15 minutes and tissue off excess. For those seeking a deeply moisturizing and plumping treatment. Scented with rose, geranium, lavender, neroli, blue tansy, and sandalwood to relax and calm.
Brightening Serum
This is technically a treatment serum formulated to reduce discoloration and boost radiance, but since it is an emulsion that can also be used for lightweight, easily absorbed moisture we've decided to include it here. This is our lightest weight emulsion for those seeking the breeziest touch of moisture. Moisturizing and protective shea butter, argan oil and sodium hyaluronate combine with sea daffodil and Japanese wakame seaweed to boost radiance and even skin tone. We've had it from celebrity makeup artists that this is their "go to" moisturizing primer before makeup application. Perfect for those with oilier skin looking for a lightweight emulsion and anyone seeking to correct dark spots resulting from acne scars and sun exposure. Note: Dry skin is often confused with dehydrated skin, which lacks water, not oil. Make sure you are drinking plenty of water to help keep skin plump. These products are also very helpful in attracting and locking hydration into skin. Tip: To save time in the morning, try blending the Facial Lotion or Face Cream with the foundation of your choice.