Introducing KAHINA™ Oil Cleanser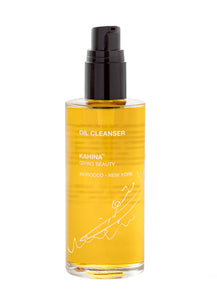 "To celebrate the 10 years since our founding, I wanted to launch something really special that would become an iconic part of the KAHINA™ line for years to come. In honor of our "Golden Anniversary", this beautiful golden-hued Oil Cleanser has all the hallmarks of the KAHINA™ line - efficacy, beautiful design, high quality ingredients including our premium argan oil and a commitment to give back to the Berber women of Morocco." -- KAHINA™ Founder Katharine L'Heureux
KAHINA™ Oil Cleanser dissolves makeup and gently washes away dirt and impurities leaving skin clean and soft without residue. Only the good oils that rebalance and normalize skin ph remain. With a nourishing base of antioxidant-rich Argan and Carrot seed oils, KAHINA™ Oil Cleanser combines the anti-inflammatory and antibacterial benefits of Turmeric to brighten skin and combat acne and Blue Tansy to calm and detoxify. Luxuriate in the uplifting scent of all natural geranium and neroli essential oils.
Tips for using our new Oil Cleanser:
Massage KAHINA™ Oil Cleanser onto dry skin of face and neck.
Make sure to spend a minute or two massaging into skin to throughly capture and lift oils from makeup, sweat and SPF. Use small circular motions to massage, moving from the neck to the forehead.
To remove, add warm water to fingertips and work it into your skin, continuing to massage skin while incorporating enough water until all of the product is gone. Or use a warm washcloth to remove.
KAHINA™ Oil Cleanser can be used day and night.
The KAHINA™ Oil Cleanser may be followed by a second cleanse with the KAHINA™ Facial Cleanser to thoroughly cleanse skin of impurities. With a thorough double cleanse at night, you may find you don't need to cleanse in the morning. That's ok!
Shop the Oil Cleanser here