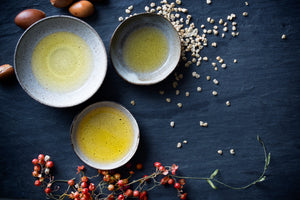 It is no secret that we love oils!
Oils moisturize, protect, regulate and balance skin. Oils can brighten and be anti-bacterial.
At KAHINA™ we are proud of our highest quality oils, carefully sourced. But perhaps you are wondering which oil is the one for you? An important consideration when choosing an oil is the composition of linoleic and oleic fatty acids.
These fatty acids support skin health through the building of healthy cell membranes. Our bodies do not produce these and so they can only be obtained from outside sources. Oleic acid (omega 9) makes oils thicker and richer and therefore oils high in oleic acid are more moisturizing. Linoleic acids (omega 6) result in lighter oils and so are best for oily and acne-prone skin.
Both oleic and linoleic acids help protect and maintain skin elasticity, smoothness and radiance.
For those with excess oil to those with dry skin and everyone in between, we break down your KAHINA™ options for you here:
Argan Oil
A multipurpose oil ideal for combination and dry skin The OG of oils, Argan Oil is extremely rich in Vitamin E, essential fatty acids and antioxidants. Due to its high oleic acid content, it has a velvety texture and delivers antioxidants and moisture to the driest skin. Antiseptic plant sterols help combat acne. The perfect multi-purpose oil, argan oil is easily absorbed and excellent for use on face and body, to tame frizz and condition hair, and to strengthen nails.
Argan Oil composition:
Linoleic: 32%
Oleic: 48%
Tocopherol: 650 mg/kg
Organic, fair trade, and cold pressed from the seeds of the argan fruit. Sourced from Morocco.
Prickly Pear Seed Oil
Balances oily skin and minimizes spider veins and dark circles
Prickly Pear Seed Oil contains higher concentrations of vitamin E than in argan oil to repair skin and v
itamin K to strengthen capillaries and reduce dark under eye circles and spider veins. Due to prickly pear seed oil's higher linoeic acid content, it is recommended for oilier, more congestion prone skin types in order to keep skin balanced. Prickly pear seed oil moisturizes skin, restores elasticity and brightens.
Prickly Pear Seed Oil Composition:
Linoleic: 63%
Oleic: 21%
Tocopherol: 1000 mg/kg
Organic, fair trade, and cold pressed from the seeds of the prickly pear fruit. Sourced from Morocco.
Serum
An anti-inflammatory, brightening, and moisturizing oil blend to address multiple signs of aging. An antioxidant-rich blend of oils and active botanical ingredients containing vitamins A, C, E and K to deeply moisturize, reduce inflammation, brighten skin and reduce fine lines and wrinkles. A blend of: Carrot seed oil is rich in caretenoids which convert to vitamin A in the body. Carrot seed oil is anti-inflammatory, helps reduce wrinkles, fade pigmentation, even skin tone and repair sun damage. It is an excellent alternative to synthetic versions of vitamin A such as retinyl palmitate. Carrot seed oil is composed of 11% linoeic acid and 30% carotol. Not a source of oleic acid. Antioxidant-rich Pomegranate Seed Oil contains a unique composition of 70% punicic acid, an omega 5 fatty acid that reduces inflammation and aids in skin repair. It also protects the skin from sun damage and fends off free radicals. Sea buckthorn fruit extract is an excellent non-irritating, stable source of vitamin C, which regulates collagen production, brightens skin and has been shown to help with inflammatory conditions like eczema, rosacia and acne. These are blended with antioxidant rich, vitamin E-dense argan and prickly pear seed oils to moisturize, soften and volumize skin. This potent restorative blend is formulated to be easily absorbed by the skin to effectively deliver its benefits. Best used at night so it can work with your skin's repairing processes. Essential oils of ylang, ylang, neroli, and myrrh provide emotional balance and deliver healing benefits.