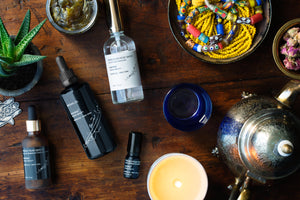 Puxatawney Phil may have indicated that spring is around the corner, but in the Northeast we know better. If the cold weather has you yearning for an escape, create your Moroccan getaway at home with this selection of KAHINA™ products made in Morocco.
ARGAN OIL
The ultimate beauty secret of Morocco, Argan Oil is extremely rich in Vitamin E and Omega acids for a truly moisturizing treatment that is absorbed easily by the skin. We carefully source our 100% pure, organic and fair trade Argan Oil from an artisanal producer located in a small village high in the Anti-Atlas Mountains.
PRICKLY PEAR SEED OIL
The oil from the seeds of the Prickly Pear fruit, carefully sourced from Morocco, is extremely rich in vitamins E and K and essential fatty acids to moisturize, balance sebum production, restore elasticity and brighten skin. Also available in a convenient glass rollerball applicator for targeted use on the eye area.
ROSE WATER
Kahina's 100% pure steam distilled Rosa Damascena from Morocco's Valley of Roses soothes irritation, tones and cleanses skin for a supple and revitalized complexion. The water used to distill Kahina's Rose Water flows from the Atlas Mountains to the Dades Gorge, infusing this water with its mineral rich content. NO ADDED INGREDIENTS.
MOROCCAN BELDI SOAP
Our Moroccan Rose Beldi Soap is a traditional cleansing and skin softening treatment direct from the famed hammams of Morocco. Made from saponified olive oil and steam distilled Damask Rose, it has a unique gel-like texture that is easy to apply. Naturally rich in vitamin E, it can be used for cleansing or as a body masque to soften skin prior to exfoliating with the KAHINA™ Kessa Mitt. Beldi means "traditional" in Moroccan.
KESSA MITT
This exfoliating Mitt is an essential part of the Moroccan Hammam tradition along with the Moroccan Beldi Soap. Use to scrub body after applying the Beldi Soap and reveal soft glowing skin.
ULILI + KAHINA CANDLE
A very special collaboration with the artisan perfumer and candle maker behind Ulili Moroccan Scents, this all-natural candle, hand made in Morocco, imparts notes of cedar, ylang ylang, neroli and patchouli for a sensuous and woody candle inspired by the romance of Moroccan nights. The handmade pottery vessel can be used for sipping tea once the candle has burned completely. Receive your complimentary Kessa Mitt with orders over $50 through February 14.