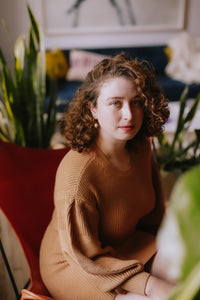 Grace, 28, is the daughter half of the Mother/Daughter team behind Kahina. Read on to discover her daily beauty routine and her role at Kahina.
What does your morning routine look like?
I work remotely out of my apartment in Brooklyn, so I am rarely rushed in the morning. My mini dachshund, Arnold, usually wakes me up at around 7:30. My morning skincare routine is simple and quick, partly to make sure I get my sunscreen on before heading outside with him. A rinse with the Facial Cleanser followed with the Brightening Serum and then Prickly Pear Seed Oil. Lastly I put on sunscreen, right now I'm into the Elta MD SPF 46.  After we go for a little walk I make myself some coffee and start work.
You have amazing hair. What do you use?
My hair is thick and curly and can be hard to control. It dries out very easily and gets frizzy. Using a little Kahina FEZ Body Serum before gel is a great way to add the right amount of moisture and helps define the texture.
Describe your role at Kahina
I am responsible for the day-to-day operations of the company – processing customer and retail orders, shipping and logistics, communicating with the warehouse, and packaging updates/designing marketing materials.  
What is it like working with your mother?
Mostly it's great. The problem is that we easily get distracted talking about other things we love, like cooking or gardening.
Any other tips you can share?
I like to use the Moisture Mask as a lip conditioner.  I love to wear color on my lips, especially during the winter's dark months, and find that the Moisture Mask helps to keep them from drying out. I love that it's moisturizing while it also creates a barrier from dry air.
I always use the Antioxidant Mask on Sunday nights. It resets my skin whether I've been neglecting it or if it's just dry from the changing seasons.  The rest of the week my routine is pretty simple:
 Step 1: Thoroughly clean my face with a double cleanse, starting with the Oil Cleanser and then the Facial Cleanser. I don't wear a lot of makeup other than lipstick and mascara but I don't want to go to sleep with sunscreen residue.
Step 2: toning with our Toning Mist to hydrate my skin. The scent also puts me in the bedtime mindset.
Step 3: I use the Eye Serum around my eyes to depuff and strengthen the area. I am starting to be concerned about crow's feet and am working now  to keep them at bay.
Step 3: Brightening Serum. Probably my favorite product. I love the texture and it really helps with redness and to even out my skin. It's not so much that I notice a difference every time I use it but I really notice when I stop for a little.  
Step 4: Oil! This changes depending on the time of year. My favorite is the Prickly Pear Seed Oil but I love the Restorative Serum this time of year when my skin gets really dry.
Step 5: Seal it all in with the Moisture Mask!
Speaking of lipstick, any other favorite beauty products you use?
I'm obsessed with Kosas lipsticks and FitGlow Beauty gloss. Kosas Fringe is what I wear at night and FitGlow Beauty Koi is my go to during the day. I also dab it on my eyelids and cheeks.