Ingredient Spotlight: Carrot Seed Oil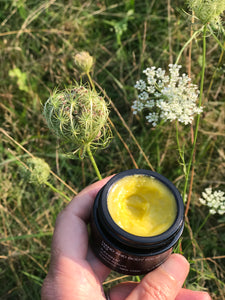 credit: dogtooth77-via-flickr
Carrot Seed Oil, also known as "Queen Anne's Lace," is derived from seeds of wild carrots — a root plant with white lacy flowers. To obtain the oil for use in our products, the seeds are dried, and the oil is extracted by steam distillation. Today, the plant can be found in many parts of the world, but it originated in Europe, Asia, and of course, North Africa.
When used in skincare, Carrot Seed Oil is incredibly nourishing, and packed with Vitamins A, C, B1 and B2. It's mostly used in products for its age-defying benefits -- this powerhouse ingredient can not only help to repair damage from free radicals, but it can also protect skin from future damage. It has also been sho
wn to reduce wrinkles, fade pigmentation and even skin tone, and promote circulation.
For blemish-prone skin, Carrot Seed Oil acts as an antiseptic, and helps fight inflammation.
This yummy, skin-loving ingredient can be found in our
Serum
,
Lip and Face Balm
,
Oil Cleanser
, and our
FEZ Hand and Body Balm
. We're offering $20 off our our Face serum through Sunday. Order yours here.
photo via wikipedia