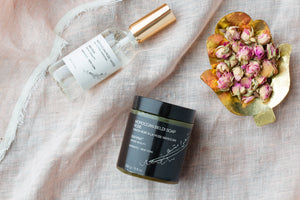 At KAHINA™ we've got the perfect sustainable gifts that will show that you really care. And the love you show yourself or those you love will have a ripple effect across the world in the form of support for impoverished Berber women of Morocco. Instead of giving roses this Valentine's Day, give these:
MOROCCAN ROSE WATER
Kahina's 100% pure steam distilled Rosa Damascena from Morocco's Valley of Roses soothes irritation, tones and cleanses skin for a supple and revitalized complexion. The water used to distill Kahina's Rose Water flows from the Atlas Mountains to the Dades Gorge, infusing this water with its mineral rich content. NO ADDED INGREDIENTS.
MOROCCAN BELDI SOAP IN ROSE
Our Moroccan Rose Beldi Soap is a traditional cleansing and skin softening treatment direct from the famed hammams of Morocco. Made from saponified olive oil and steam distilled Damask Rose, it has a unique gel-like texture that is easy to apply. Naturally rich in vitamin E, it can be used for cleansing or as a body masque to soften skin prior to exfoliating with the KAHINA™
Kessa Mitt
. Beldi means "traditional" in Moroccan.