Why you need our Face Serum NOW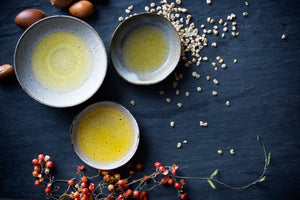 A supercharged blend of plant oils and botanical actives combine high concentrations of vitamins C, A, E and K and fatty acids. Seabuckthorn Oil, Carrot Seed Oil, Prickly Pear Seed Oil and Argan Oil combine with pomegranate and myrrh for an intensely restorative moisturizer. Our most active oil treatment nourishes, builds collagen, reduces redness and fine lines and wrinkles.
Take $20 off of our Face Serum through February 6 with code: THESERUM
Just a few of the raves from our customers:
"I've been a Kahina product user for several years. I think the Serum is my favorite. I am close to 67 years old and I often get compliments on my skin. And my skin was never that great! I love it."
"This product is moisturizing, rejuvenating, and magical! It gives my skin a healthy and radiant glow, while providing a plethora of skincare benefits."
"Beautiful product that makes my skin look fantastic. Calms down inflammation and regulates oil production while getting rid of dry patches. I love this stuff! Totally worth the price - I use it twice a day."
Take $20 off The Serum with code:
THESERUM
. Offer expires on February 6 at midnight EST