Back From Morocco With a Gift For You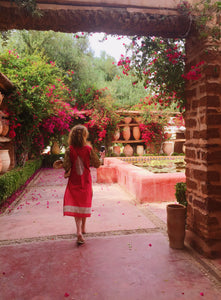 I've just returned from a trip to Morocco with my daughter Grace to celebrate her graduation from college. We arrived in Marrakech and stayed our first night at The Beldi Country Club to relax and acclimate before moving to my favorite hotel in the medina, La Tchaikana, close to the souks, restaurants and sites of Marrkakech.
From there, we drove over the High Atlas Mountains to the Valley of Roses near Ourzazate (to see the rose harvest and distillation process for our Rosewater). We stayed in a gorgeous restored 18th century kasbah, Ait Ben Moro. It is a elegant example of true Berber simplicity and style.
Then down to the Anti-Atlas Mountains to pay a visit to the Berber women who produce Kahina's argan and prickly pear seed oils. Our visit was made especially poignant as we travelled through rural Morocco where most girls don't have the opportunity to continue school past the third grade. It was wonderful to show my daughter what a difference Kahina's work has made in the lives of girls and women in the region.
As our gift to you from Morocco, take 20% off of your order of Argan Oil with code MOROCCO through May 22.
Shop
here
. Where to stay:
Marrakesh:
Beldi Country Club La Tchaikana Maison Arabe
Ourzazate:
Ait Ben Moro (in Skoura, close to Ourzazate)
Taroudante:
Dar Zitoune
Essouira:
L'Heure Bleu Madada Mogador Where to eat:
Marrakesh:
Cafe Arabe Le Jardin Le Fondouk Terrace des Epices Cafe de la Poste