From The Bullet Kahina Review Hits the Mark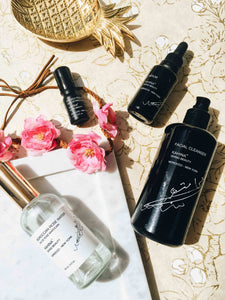 We were delighted to share products and discuss Kahina with green beauty blogger, Floriana at Fromthebullet.com. The following is excerpted from her Kahina review and our conversation. Thank you Floriana!
I'm now back from my vacation and excited to share with you my thoughts on a brand that I've fallen in love with over the past few months. Not only with the products but with the people behind the brand as well. Kahina Giving Beauty has become an everyday staple in my routine. Let me walk you through my favorites and then hear from the woman that started the brand!
Facial Cleanser 200 ml, $60
Can we first talk about how this product is 200ml! I absolutely love the size of this cleanser. Such great value and it will last for months! Now that I've gotten that excitement out of the way, let's talk formula. Hydrating and soothing base of Aloe and Sunflower Seed, Argan oil along with exfoliating and brightening Papaya fruit extract, anti-inflammatory Willow Bark and Blue Tansy...what a combo! It has a creamy silky texture that glides on the skin effortlessly. It remains in a cream form and doesn't foam up. I use it as a second or morning cleanse and I love how refreshing and soft it makes my skin feel. You can use a wash cloth or simply rinse off with water. It doesn't leave a residue either way. It's perfect when skin is feeling dry or irritated as the ingredients really help to soothe and nourish it. I can see this bottle lasting me a while, which I love! Highly recommend.
Moroccan Rose Water 100 ml 3.3 fl oz $38
I personally am not a fan of heavily rose scented anything. But I have been coming across products lately that I'm slowly growing my love for the fresh and powerful aroma. This formula is incredibly soothing and really helps heal blemishes and aid in reduction of redness and irritation. Rose water is absolutely amazing for blemish prone skin and it really helps my skin when it's going through a hormonal cycle. The spritzer on this gives an even mist of product without feeling like you're taking a shower :) I prefer misting directly on my face instead of on a cotton pad to get every last bit of this formula on my skin. It also works well as an activator for masks. I spray it into my
Problem Solver
or on my hand when applying Josh's
Cacao Mask
. Absolutely gorgeous.
Serum 30 ml $98
First off, let me say how much I have been loving Argan oil. It is such a beautiful oil that isn't greasy, it's chock full of vitamin e and fatty acids and works well with any skin type. So when I saw the base of this serum was Argan, I did a little jump. It has brightening and repairing Prickly Pear, Coffee Seed oil, Carrot seed oil and Sea Buckthorn. Making this formula perfect for any skin type. I have been loving this serum. I use it at night and it's absolute heaven. It hydrates, brightens, calms any irritation, soothes redness and makes my skin glow. It also works amazingly well on the body. I like to use a few drops on my arms and chest to keep everything juicy and plump. It absorbs amazingly well and doesn't leave behind a sticky residue. I even tried using it during the day (applying slightly less under makeup) and it held up really well. Argan has the ability to help skin not over produce oil and so my skin responds really well to it. An all around powerhouse of ingredients that do all the right things. It's like giving your face a kiss from an angel.
Prickly Pear Seed Oil Rollerball 5 ml $40
Prickly Pear is a beautiful ingredient packed with Vitamin E and K. It helps soothe, brighten and hydrate skin. This rollerball saves my dry and sensitive eye area every night and in the mornings. I keep it by my bedside and always apply it before bed. The stainless steel rollerball is so cooling and refreshing, I love how it de-puffs my eyes, especially after a long day...it just feels amazing! I also love applying it to my lips. It sinks in right away and leaves them feeling plump and nourished without any residue. I don't know why other brands don't do rollerballs, especially for the eye area. I find them so comforting to use.
So now that you know my favorites, here are my favorite 5 questions answered by the beautiful owner Katharine L'Heureux. Q. What inspired you to create your brand? A. I had been searching for effective organic skincare to use myself when I first traveled to Morocco on vacation in 2007. When I was introduced to argan oil at an apothecary in Marakkech on that trip, I realized I had discovered the single ingredient I had been searching for – sustainable, multi-purpose and effective at balancing my combination skin. After sharing the oil with friends back at home, I discovered that I wasn't the only one wanting simple organic skincare that works. At that time, argan oil was barely known in North America. Before taking the leap to start a skincare line I made it my mission to learn everything I could about argan oil and Moroccan beauty rituals by making frequent trips to Morocco and getting to know the Berber women who do the work of extracting the oil. While traveling extensively in the South of Morocco and visiting many cooperatives that produce oil by hand using traditional techniques, I developed a deep appreciation for rural Morocco and its people, particularly the Berber women. It was then I decided to create the full Kahina line of natural, effective and ethically sourced skincare that honors and gives back to these women. Q. Which ingredients do you feel are your power players? A. We adore vitamin studded and antioxidant rich argan and prickly pear seed oils and use one or both of these in almost all of our products. Loaded with tocopherol (Vitamin E) and Omega fatty acids, these oils nourish skin, reduce the appearance of fine lines and wrinkles, restore elasticity and calm inflammation. They also contain plant sterols that have been shown to actually treat acne. Because these oils aren't greasy, they work well for all skin types and effectively treat a multitude of concerns. The Prickly Pear Seed Oil has the added benefit of vitamin K, which strengthens capillaries and works wonders on dark spots and under eye circles. Q. Is there a particular skin type you created your products for? A. While our products are oil based, and therefore naturally effective for dry, mature skin-types, I believe there is something for everyone in our line. Men and women of any age with a variety of skin concerns can (and should!) use our Facial Cleanser and Toning Mist which both contain naturally occurring salycillic acid from willowbark extract, Rose Water which is naturally anti-bacterial and hydrating, and argan oil, which contains plant sterols to naturally treat and heal breakouts. For specific concerns, or more hydration, additional products can be layered for the desired effects. I am in my 50s and can't live without any of the products, and my husband, as well as my son and daughter in college are also hooked. Even my 11-year old son has started to use the Facial Cleanser and Argan Oil. Q. If you could choose one star product from your collection, what would you choose and why? A. It is so hard to choose one, as they are meant to be used together for the best results. Each product assists the next in achieving optimal, glowing, healthy skin. I do have a soft spot for the eye serum, though. It has resolved issues of under-eye puffiness after long-haul flights and many a morning when I didn't look as bright and awake as I would wish. Q. What would be the ideal skincare routine using your products? A. I created the Kahina line for myself and my own skincare needs so I use every single product. As winter turns to spring in New York, I am in a more transitional phase with my skin. As I shed clothing layers, I also lighten up my skincare routine and gravitate to lighter, more floral scents: § Mornings I will simply cleanse with the Rose Water sprayed on a cotton ball (I also spray Rose Water in my hair to make it soft and manageable). Before bed, I remove makeup with the Rose Water sprayed on a cotton ball and then cleanse with the Kahina Facial Cleanser. § I follow with a few pumps of Toning Mist or Rose Water to dampen my skin and prepare it for oil application § Then a couple pumps of the Brightening Serum to clarify and boost radiance § Massage a couple drops of oil into my skin – Argan Oil in the morning and Serum at night § Followed by a nourishing emulsion for additional hydration – Facial Lotion in the morning mixed with my favorite RMS concealer creates a tinted moisturizer that I can easily control to match my skin tone. This is especially important as my skin color changes over the course of this season. I use Kahina Night Cream at night if I want something lightweight but still nourishing and effective. For evenings when I want a richer treatment, I'll use the Moisture Mask as an overnight treatment. § For my eyes, Eye Serum in the morning to reduce puffiness and Eye Cream at night for more moisture. Both contain skin strengthening and collagen boosting ingredients that are so important for the eye area. § Twice a week, I use our Antioxidant Mask, applying a thin layer on my skin and then letting it sit for about 10 minutes before massaging it in. I love this mask as it never feels dry or tight on my face. It's a fabulous detoxifying and exfoliating treatment and smells amazing with eucalyptus and mint essential oils. § Sunday is double mask night with the Antioxidant Mask first as an exfoliating step followed by an overnight treatment with the Moisture Mask. Monday morning I start the week with soft and glowing skin. § It's time to get my body beach ready now. Our Kahina body ritual helps to create healthy, glowing skin ready for baring. In the shower, I use our Beldi Soap to cleanse and soften. I'm experimenting with a new scent right now that I absolutely love and can't wait to share with you. I exfoliate with our kessa mitt and then moisturize with the Essaouira Body Serum, a light and breezy scent that really gets me in the mood for the warmer months ahead. Q. Where do you see your brand going in the future? A. We are so excited to see the growth of the green beauty category and with it, the growth of Kahina around the world. We plan to stay focused on our mission of providing the highest quality skincare while preserving and enhancing the lives of the people who provide the raw ingredients at the heart of our line. As we grow, it is wonderful to witness material improvements in the lives of impoverished women in Morocco who benefit from the economic opportunity that we are providing. So there you have it. My love for this brand continues to grow and I can't wait to share more products from this beautiful line. You can find Kahina products directly from them
here
,
Dermstore
,
Content Beauty
and more. Disclosure: This post is not sponsored. Some affiliate links were used. These products were gifted to me with absolutely no obligation to review. As always, my review is from the heart.