Argan Oil, The Kahina Difference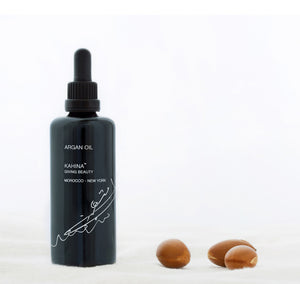 I'm just back from Morocco where I visited the argan forest and the women who produce our argan oil. Droughts from the past seven years in Morocco are resulting in lower fruit yields for the 2017 harvest, but because of my strong relationships with our supplier, Kahina argan oil pricing will not be affected. The good news is that recent rains are showing strong signs for a successful harvest in 2018. As always, our argan oil is extraordinary. Region, strict quality controls and artisanal production techniques all play an important role in the superior quality of our argan oil. Here are six reasons why Kahina Argan Oil rises above the rest: 1. Our argan oil is sourced from high in the anti-atlas mountains where the arid climate keeps nuts from becoming rancid 2. Argan fruit is carefully harvested from the tree to ensure that the fruit has not been predigested by a GOAT (yes, that's right. Many low priced argan oils on the market are chemically deodorized or mixed with essential oils to mask a foul odor. Most of the time, this means the argan fruit has been predigested by a goat.) 3. Argan nuts are cracked by hand by Berber women using centuries old techniques 4. Argan kernels are carefully sorted to ensure that only highest quality material is used 5. Oil is cold pressed by machine to ensure purity and cleanliness 6. I frequently visit the women who produce our argan oil to ensure best practices Most argan oil on the market is purchased through large middlemen with little knowledge of the source of the nuts or the people who harvest and crack them.
Often the women who do the hard work of extracting the argan oil are undercut by market pressure for low-priced argan oil. It is crucial that these women receive a fair wage for their labor in order to make the money they need to survive. We only purchase certified Fair Trade argan oil for our products, guaranteeing that the women who do the work of extracting argan oil are compensated for their work. To read more about our Argan Oil quality, click
here.
Receive 20% off of your Argan Oil purchase with code MOROCCO through May 22. Shop
here
.