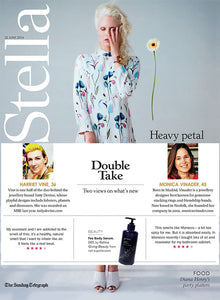 Stella features Kahina Giving Beauty Toning Mist in their Top 20 Best Beauty Products from Around the Globe.
"We live in an age when beautifying ourselves should be easy. With science on our side – utilizing the best that chemistry and nature have to offer – we have more products and tools than any generation before us. It's the age of instant-everything when even the most obscure of portions are just a click away.
But somehow that only makes things all the more confusing. That's why Anna-Marie Solowij and Millie Kendall have decided to step in. With two decades in the beauty industry behind them – Solowij is the ex-beauty director of British Vogue, Kendall the retail maven who brought the Shu Uemura, Aveda and Ruby & Millie to Britain – they wanted to create one super-cool beauty emporium where all the young-enhancing lotions, best concealers, kookiest Japanese gadgets and most brilliant lipsticks and eye shadows they've discovered in chemists and boutiques around the planet were gathered.
And they've done exactly that. This month sees the launch of beautyMart, a new concept in beauty retail. In a fashionable corner of Harvey Nichol's London store they have collated and curated their global discoveries, from cute, cheap handbag fillers to premium shampoos. And they've tested the lot. We've persuaded them to hone down their mammoth list of must-haves and share 20 of their favourites with us.
'Kahina was founded by the American philanthropist Katharine L'Heureux to benefit the Berber women of North Africa who harvest argan nuts for their oil. The oil itself is incredibly pure but the product I used the most is this Toning Mist. It's refreshing and great to spritz over make up.'"