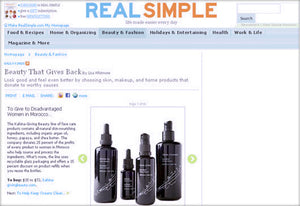 This Taschen publication, "Product Design in a Sustainable Era" celebrates innovative and sustainable product design and spotlights "elegant, efficient, low-impact products that look towards a sustainable future." Kahina Giving Beauty was selected for its packaging and is proud to be included in this "state-of-the-art update on the sustainable revolution in product design."
"To aid impoverished women worldwide through the sales of quality organic skincare Giving Beauty sources ingredients from women's cooperatives and donates 25% of the profits to the women in the country of origin. The first line to be introduced is Kahina, based on fair trade argan oil from Morocco's Southwest. Package art is created from the signatures of the women of the cooperatives.
Kahina donates 25% of its profits to the Berber women who work to extract the organic argan oil that forms the base of the line. The money is dedicated to educational programmes for the women and their children. The line is 100% natural and uses organic botanicals whenever possible. The packaging uses 100% recycled materials, and the bottles are recyclable violet glass.
Design: Territory Brands, www.territorybrands.com, Michael Souter"