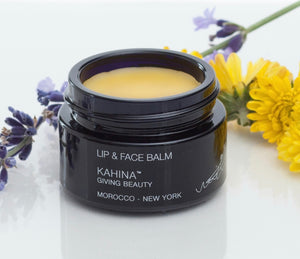 "Slugging". The popular trend of layering petroleum-based products over moisturizer doesn't sound the most enjoyable - or "clean", but we like the general idea. We've made it our own with our Lip & Face Balm, improving on the trend with skin-loving naturally-derived ingredients.
The practice of "slugging", popularized by K-Beauty,  is to apply an occlusive layer of a thick, petroleum-based product over your moisturizer before going to bed. This thick layer then "locks in" moisture and helps bump up the benefits of your moisturizer. The result is soft and dewy skin the following morning. Dermatologists love to recommend the application of a heavy, petroleum based product over moisturizer as a treatment for especially dry areas due to conditions like dermatitis.
We aren't fans of petroleum jelly products for many reasons, primary among them that petroleum is not a renewable resource. And let's face it - smearing a petroleum jelly product on your face hardly imparts the most luxurious feeling. At Kahina, we believe that our self-care rituals should feel and smell great while doing the job. 
Our Lip and Face Balm is a luxurious, all-natural alternative to petroleum jelly and provides added benefits of ingredients that promote skin health. This restorative balm incorporates shea butter, olive oil, beeswax and mango butter to create a lush, velvety base. When used over your favorite moisturizer, its thick texture functions as an occlusive and really locks in the moisture.
Kahina Lip and Face Balm also includes soothing anti-inflammatory and healing botanicals like calendula. immortelle and blue tansy. Calming essential oils of neroli and geranium will help you drift off to sleep. 
Katharine, Kahina's Founder, has been "slugging" for some time without actually calling it that.
"Whenever I notice my skin is particularly dry, I apply the Lip & Face Balm over whatever products I have on. Typically, it is over one of our pure oils, but I will also layer it over our Face Cream from time to time. Layered over foundation or tinted moisturizer, it eliminates any dry "cakiness" and gives skin a nice glow while working to moisturize and protect.  Our Moisture Mask is another way to reap the benefits of slugging without leaving skin greasy. The mask, which leaves a slight film on face, is designed to seal beneficial ingredients meant to calm and brighten - and moisture - in while you sleep."
Have you tried slugging? We'd love to hear about your favorite ways to use our balms and Moisture Mask!