KAHINA Restorative Serum Gets An Upgrade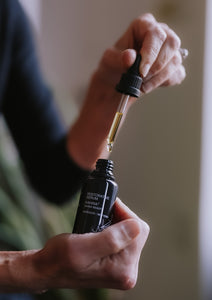 Kahina Giving Beauty Restorative Serum is a do-it-all powerhouse with an  impressive roster of skin loving natural ingredients including carrot seed oil, Vitamin C rich sea buckthorn seed oil, skin-tightening caffeine and more. These are then all wrapped in a base of the brand's signature organic argan oil and prickly pear seed oils. 
Just when we thought this serum was impossible to improve upon, it has been amped up with a blend of ultra potent brightening, collagen stimulating and anti-wrinkle actives. The Restorative Serum now features three uniquely targeted ingredients to reduce and regulate pigmentation:
Marshmallow Root

:

This buzzworthy anti-inflammatory ingredient is gaining steam for its amazing ability to impart moisture and improve the appearance of  both lines and wrinkles as well as sun damaged skin.
Rice Bran Oil: Packed with vitamins B and E, this ingredient has been used in Japan for centuries for skin brightening.
Licorice Root: This centuries old ingredient helps fade dark spots.
A potent marine microalgae sustainably produced using the latest in green farming technology, provides a rich source of bio-available carotenoids, essential fatty acids, and sterols with proven anti-wrinkle activity resulting in dramatic improvements in skin elasticity, hydration and softness.