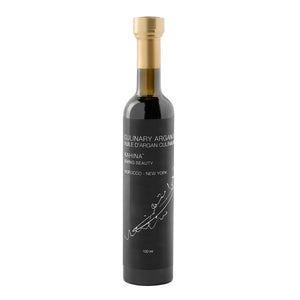 We are thrilled to now offer a culinary version of our premium Argan Oil. Made with high quality seeds from the argan nut, but roasted before pressing to impart a nutty flavor and aroma, this oil is perfect for drizzling on bread or salad or as a nutty replacement for olive oil in recipes. Like our cosmetic Argan Oil,
culinary Argan Oil
is rich in vitamin E and essential fatty acids, a heart-healthy choice available only at kahina-givingbeauty.com. This holiday, try our recipe for
Moroccan Spiced Popcorn
:
Ingredients:
Culinary Argan Oil
Organic popcorn Kernels
Salt
Cumin
Coriander
Paprika
Turmeric
Cayenne (optional)
In a medium saucepan, heat 1 tablespoon of Culinary Argan oil with 2 tablespoons of Organic Popcorn Kernels over Medium-Low heat and cover. Shake periodically until you no longer hear popping or the pot/pan is full. Pour into bowl. Drizzle with Culinary Argan Oil and add spices to taste.
Click here to shop.