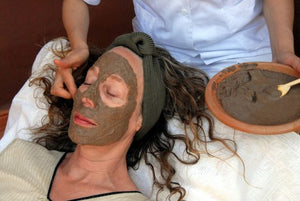 At Kahina, we formulate our products to reflect traditional Moroccan beauty rituals. On a weekly basis, I recommend using our
Antioxidant Mask*
formulated with Rhassoul Clay and Argan Oil to detoxify and exfoliate skin. Here is the DIY version used in Morocco, which I had the good fortune to experience at the hands of Harima at the home of my friend Antillia Dufourmantelle in Taroudant. Ingredients: Moroccan Rhassoul Clay,
Argan Oil
,
Rose Water
.
Rhassoul Clay is a grayish brown clay found in Morocco's Atlas Mountains. It contains calcium, magnesium, potassium, sodium and silica and can help to strengthen skin barrier, restore collagen, absorb excess oil, soothe, cleanse and moisturize. In Morocco, it is commonly used to cleanse hair and body as well as in a facial mask.
Step One: Mix Argan Oil and Rose Water into the Rhassoul Clay. The addition of Argan Oil and Rose Water makes this mask super moisturizing and calming. Step Two: Mix thoroughly to form a paste.
Step Three: Apply a thick layer of the mask to the face avoiding the eye area and let sit for 10 to 15 minutes. Remove with warm water.
Step Four: Follow with Argan Oil application and facial massage.
Thank you Harima for the perfect facial, and Antillia for the visit and the photos! *Note: Our Antioxidant Mask is mess-free and has the additional benefits of lactic acid for increased cell turnover, and antioxidants from pomegranate and acai.