Building a Preschool in the Anti-Atlas Mountains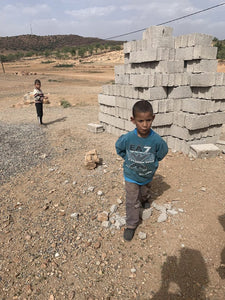 It was exciting to see progress on our most recent social initiative in the Anti-Atlas Mountains, the construction of a kindergarten/preschool for the youngest children of a remote village in the Anti-Atlas Mountains where we source our Argan Oil. Like all of our initiatives where we donate directly to the community, this project was initiated by the people of the village, whose toddlers were being taught in the home of one of the members. Kahina Giving Beauty is donating materials for the building of the school. The actual labor is being performed by the villagers. In this way, the people of the village have a vested interest in the success of the project. This photo is of Mohammed and Ibrahim with their mother, Ikarima. Mohammed is managing the construction of the school.
The preschool is a simple construction of cinder blocks. I'm looking forward to seeing the bright paint on the walls when the building is completed. This photo is of the grade school next door.
Along with providing important early education for the children of the village, the preschool will allow the women of the village to do their daily chores and to crack the Argan nuts to earn a living. As in most villages of the Anti-Atlas Mountains, the men leave the villages for the big cities in order to find work. Of course, there was much celebrating with tea!