Dara Kennedy interviews Katharine to celebrate 12 years of Ayla Beauty in SF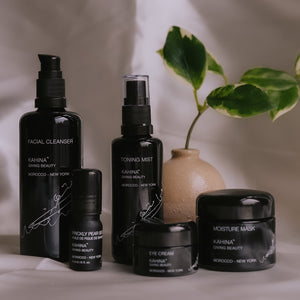 At Kahina, we take great pride in our partnerships with some of the most stellar retail stores out there who share our commitment to sustainable practices. Among these is Ayla Beauty, now celebrating 12 years of doing business in my hometown of San Francisco and who embraced the green beauty movement early on. Katharine recently had the opportunity to answer some questions for Ayla Founder, Dara Kennedy, to mark their milestone.
Kahina Giving Beauty: one of our first partners
One of the first brands on our shelves was Kahina. It occurred to us, recently, that many people may not realize what a pioneering brand it is. Dara thought she'd share a recent conversation with Kahina's founder, Katharine L'Heureux, about her journey — and what inspires her ever-forward-thinking mind these days.
Check out their conversation below. Katharine is a genuine pioneer, and we are so proud at Ayla to be one of Kahina's longtime partners. 
Dara: Kahina is one of the few brands that's been with us since the early days; since you founded the business in 2008-2009, you've been committed to healthy ingredients, sustainable approaches to packaging, and mindful sourcing. This was about a decade before those became the standards that most brands in our world strive for — I think you were even the first brand that I saw using Miron glass! What led you to commit to these practices then, and what has it been like to see the world of beauty evolve to catch up with you? 
KATHARINE: I was first introduced to argan oil in 2007 while on vacation in Morocco, and was impressed by its purity and efficacy. It made a real difference in my skin, unlike the traditional luxury skincare products I had been using. The idea that a pure oil could transform my skin was an epiphany.
I started importing the oil to the US in 2008 and began learning more about the oil's production and the social and economic impact it has on the indigenous women of Morocco. At the time, industrial agriculture was becoming more prevalent in Morocco, representing a major shift from the small, organic family farms that had always existed there, and globalism was causing a shift away from artisanal crafts and traditional farming techniques leading to a loss of opportunity for rural women.
In seeking the highest quality oil, I became dedicated to preserving the proper harvesting and production of the oil, both for the environmental impact on Morocco and for its impact on the Berber women of Morocco who do the work of extracting it.
When I decided to expand the business by introducing new formulas based on Argan Oil in 2009, which are made in the US, it was a no-brainer that the products would be organic. The only products I knew of at the time using Argan Oil contained chemical preservatives. My thinking was, "Why would you take this beautiful, pure oil and contaminate it?" 
You are right that luxury organic skincare did not exist as a category then, and there were no similar brands to Kahina on my radar at the time, but I wanted to create something that looked and felt different from what was being sold. And I felt that if I was going to put something out into the world, it would not contribute to the waste and exploitation of labor and environmental resources that were/are customary in the industry. It was born of respect for the customer, the environment, and the people who grow and harvest our raw materials. I am thrilled that these practices have become the standards for customers today. 
 Dara: What aspects of the beauty world today do you think could use further evolution?
KATHARINE: As the natural, organic, clean (or whatever you want to call it) industry has grown, a lot of money has flowed into the category and I fear that many of the core principles have become diluted. There is a lot of misleading information and customers are understandably confused.
I maintain my belief that the category is about so much more than beauty. The conversation also touches on issues of land preservation and uses, labor, environmental protection, as well as consumer health. So many people have rushed into the category solely to cash out, without adhering to the basic core principles of the natural beauty category — including transparency of ingredients. The resulting confusion and lack of accountability can be a turnoff to consumers.
 Dara: I'd love to hear what you find interesting in the world right now — a pioneer is always a pioneer. What are some things (people, places, products, ideas, trends) that inspire you these days?
 KATHARINE:
I love that non-traditional concepts of beauty, particularly the embrace of gender fluidity and age neutrality in fashion and in skincare are taking hold. It feels more like actual inclusiveness, rather than performative, this time.
I am always inspired by artists and artisans using traditional techniques, whether it is refining crafts or using old techniques to create new forms.  And, of course, Moroccan design has always been an inspiration for me. Berberology has recently attracted my attention. They are a group of women weavers in Morocco's Anti-Atlas Mountains using all-natural dyes and reviving traditional weaving techniques to create the most beautiful Moroccan rugs. 
Travel. After being somewhat of a shut-in during the pandemic, I am excited to explore again.  
I am really inspired by big cities at the moment and have fallen even more deeply in love with New York City as I have watched it rebound once again when people said it couldn't happen after the pandemic. See the Edward Hopper exhibit at the Whitney Museum – it's a love story to New York City in the mid-twentieth century. After being somewhat isolated for the last few years, it feels great to see people coming together again. 
There have been some great streaming series and movies that are biting commentaries on the luxury class – White Lotus, Triangle of Sadness, and The Menu are three. While these are satirical in nature, they bring to light the exploitation of resources in the luxury sector. While the scenarios they depict are extreme, the conversations they evoke are important. What exactly does it take to create the product or experience that you are consuming?  
Right now I have a chicken living in my shower in Upstate New York. One of our backyard flock survived a hawk attack and we brought her inside to recuperate. The bird now requires our constant attention. The care of animals is very grounding, as a reminder of the most fundamental things — life and death, and our responsibility toward our fellow creatures.
  Dara: What else would you like everyone to know about Kahina?
KATHARINE: Although we have been in business for 15 years, we are still a very small, family-owned and operated business. We are the ones responding to your emails and filling your orders. It is very personal to us.
We are not interested in following trends and jumping on the latest ingredient bandwagon in skincare. We believe in our products and stand by our belief in a simple, effective skincare routine.