An Interview with THE ZOE REPORT in honor of International Women's Day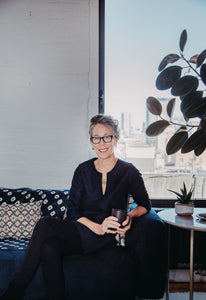 In honor of International Women's Day, The Zoe Report asked me a few questions about being a female founder, which got me thinking about what it means to be an entrepreneur as a woman today. Read the full interview below.
TZR:
In honor of International Women's Day, what does it mean to you to be a female founder?
KL: Kahina is actually the second business that I have founded. The first was a public relations company I co-founded in San Francisco over 20 years ago; we had interesting accounts such as Odwalla, Bare Essentials and the chef Thomas Keller.
I am especially proud to have accomplished what I have with Kahina Giving Beauty, making a difference in the lives of impoverished women in rural Morocco by providing a market and fair wage for their labor, allowing access to education for young girls, and running water and electricity for a remote village high in the Anti-Atlas Mountains. At the same time we provide healthy alternatives to traditional skincare for women around the world. I am proud to be setting a positive example for my daughter so that she can realize her own dreams and make an impact.
I would have to admit that my accomplishments have often been regarded as secondary to those of the men I am surrounded by. No matter our successes or how many hours I put in, I often have the feeling that my work is not taken seriously. It only makes me work harder to prove them wrong.
TZR:
Can you speak to any hardships you may have faced, boundaries you may have broken, or challenges of being a woman in this industry — and how you overcame them?
KL: Actually, I think being a woman in the industry has been an advantage. I created the products that I really wanted to use - effective, sustainable, and beautifully packaged. I was determined to market Kahina in a way that I felt was not condescending to women and that would emphasize the positive rather than playing on women's insecurities. While it was often difficult traveling as a woman in Morocco, I had access to the Berber woman that a man would never have. It is a very conservative society and women are not permitted to be alone with men, or to show their faces to men who are not in their family. I was able to get to know these women and build relationships with them based on shared concerns as women such as raising families and preparing meals.
When I started Kahina, many people including friends, thought that my work was only a hobby. The success and longevity of Kahina has hopefully proven them wrong.
TZR:
In terms of the mission of your business, how do women inspire you everyday? How does your brand support/give back to women?
KL: Our mission has always been to connect women around the world through shared beauty rituals, while improving the lives of the impoverished Berber women who do the hard work of extracting the raw ingredients at the heart of our line. I built the brand this way because I was, and continue to be, so inspired by the grace and dignity of these women and felt a desire to highlight them as the true artisans behind the Kahina brand. I also saw a need in the skin care market for high quality natural skincare that would offer women an alternative to traditional cosmetics filled with harmful ingredients. In this way, our model is a win-win.