4 Reasons to Celebrate Earth Day with Kahina Giving Beauty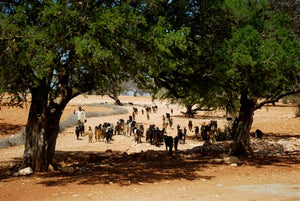 1. Certified natural and organic formulations:
Kahina products are certified natural and organic by ECOCERT, assuring the safety of our products and our commitment to environmentally sustainability.
2. Recycled and recyclable packaging:
All Kahina product packaging is made from 100% recycled materials and the bottles are created from high quality recyclable violet glass, which also helps preserve the natural ingredients inside by blocking out damaging light rays.
3. Preservation of the Moroccan argan forest:
Kahina Giving Beauty's careful harvesting and ethical trade practices serve to protect this endangered forest, one of Morocco's most valued assets.
4. We believe that social and environmental preservation go hand in hand:
Kahina donates a percentage of its profits to the Berber women who work to extract the organic argan oil that forms the heart of the line. This year, we are working to provide solar powered cooking stoves for the women so they won't have to cut down the argan trees for firewood, and will eliminate the hard work of collecting the wood. How are you helping Mother Nature?
Celebrate Earth Day with Kahina Giving Beauty
!