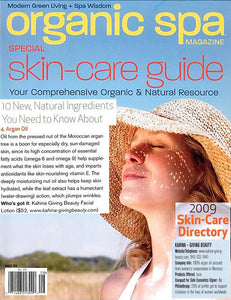 Kahina Argan Oil is a "Fabulous Face Oil" in Organic Spa's annual Skin Care Guide.
"Pure botanical oils, sourced from around the globe, are not only highly effective, they have kept women beautiful for centuries.
Argan: Indigenous to Morocco, Argan oil is extracted from the seed of the fruit of the Argan tree. It delivers antioxidants and essential fatty acids (EFAs), which protect and nourish the skin. The plant sterols in Argan oil help clear up acne, soothe eczema and plump up dehydrated skin."