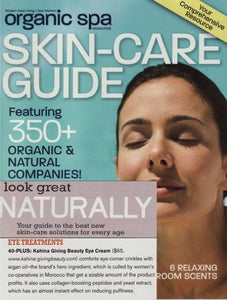 Organic Spa highlights Kahina's new Eye Cream in "Look Great Naturally" as the best eye treatment in the 40+ category.
"Cleansers, moisturizers, and natural problem-solving skin-care products now line the shelves. But how to know which one is right for you? The promise on the packaging? The recognizable ingredients on the label? The advice from your facialist? All of the above? We scoured the best products- most new, all noteworthy- that provide a skin-care solution for every age in every category. Equipped with this guide, you'll be all set for secure skin-care shopping the whole year through.
Eye Treatments: The skin around the eyes is the thinnest on the face- dark circles are most often just the visible blood vessels below. And because the eye area has very few oil glands, fine lines show up here first. Most eye creams offer hydration, so choose one that tackles a second issue, too.
Kahina Giving Beauty Eye Cream comforts eye-corner crinkles with argan oil- the brand's hero ingredient, which is culled by women's co-operatives in Morocco that get a sizable amount of the product profits. It also uses collagen-boosting peptides and yeast extract, which has an almost instant effect on reducing puffiness."