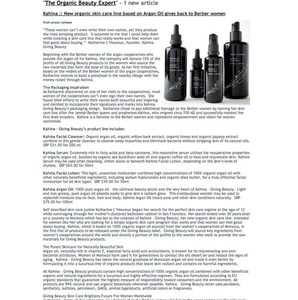 Organic Spa's January issue on Eco Travel devotes a page to Beauty Giving Back and Kahina.
"When her beauty products fell victim to airport security on a trip to Morocco a few years ago (they were over the size limit), Katharine L'Heureux asked her tour guide what local women used on their skin. He led her to the back of a grocery store and introduced her to pure argan oil, the centuries-old beauty remedy that's rich in vitamin E and anti-oxidants, and is known to restore elasticity, improve tone, and protect the skin. L'Heureux (a marketing industry vet and part-owner of a sustainable Napa Valley vineyard) was taken with the natural oil– but even more so with what she learned about the Berber women who still produce it using traditional methods. Inspired by them, she created Kahina Giving Beauty, a quality line of argan-based skin care that benefits the body, the environment, and these women.
For Kahina (which gets its name from that of an ancient Berber queen and prophetess), L'Heureux sources the argan oil from rural women's co-ops in southwestern Morocco– the only place in the world where the argan tree grows. For hundreds of years, the women of that region have gathered the tree nuts and gone through the extensive process of cracking, kneading, and extracting; it can take up to eight hours to produce one liter of oil. Many of the women at these co-ops are illiterate– but are also their family's breadwinner. L'Heureux works closely with the co-ops to make sure the women are properly compensated, and she donates 25 percent of Kahina's profits towards building educational and women's right programs at the facilities.
'The problems of impoverished women extend beyond the women themselves,' she explains. 'Addressing the causes of their poverty can have a significant effect on them and their community, and can help break the cycle of poverty for them and their children.' The line's simple packaging (made from recycled materials like violet glass, which acts as a natural preservative) is adorned with a compilation of the women's signatures, and many of their stories and photos are featured on the Kahina site to foster a connection between the customers and the creators.
In the future, L'Heureux aims to expand this model to other locations around the world by sourcing a variety of indigenous ingredients from local women and by helping to foster on-site education and empowerment. Her business' mission is simple: Women helping women through shared beauty rituals. 'Even something as seemingly inconsequential as our choice of skin care can make a difference,' she says. 'Women here in the U.S. have the desire and the power to improve the lives of women in need around the world, so with Kahina, I hope to provide a vehicle by which they can have an impact without making sacrifices.' -Sandra Ramani