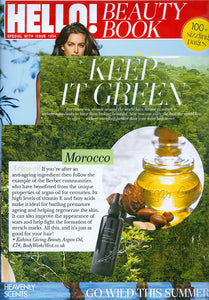 Kahina Argan Oil "Keeps It Green" as an all-natural Moroccan beauty wonder in Hello! Beauty Book.
"For centuries, women around the world have turned to nature's miracle ingredients to keep them looking beautiful. Now you can enjoy the best the world has to offer - without traveling further than your local high street.
Morocco. Argan Oil: If you're after an anti-ageing ingredient then follow the example of the Berber women communities, who have benefited from the unique properties of argan oil for centuries. Its high levels of vitamin E and essential fatty acids make it ideal for battling premature ageing and help regenerate the skin. It can also improve the appearance of scars and help fight the formation of stretch marks. All this, and it's just as good for your hair!"