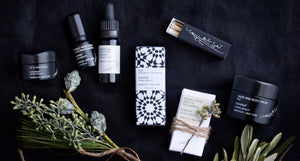 Naughty or nice, we've got the perfect gift for everyone on your list. May we suggest:
Our bestselling Argan Oil
Perfect for anyone on your list, argan oil is a multi-tasking wonder that is effective for most skin types and can also be used to tame frizz and moisturize body. Available in 100 ml, 30 ml or 10 ml sizes.
KAHINA Prickly Pear Seed Oil Rollerball
Our high quality cold-pressed prickly pear seed oil from Morocco in a cooling glass rollerball instantly banishes puffiness and reduces dark circles.
KAHINA Lip & Face Balm
A nourishing blend of calendula, immortelle, argan oil, carrot seed oil and mango nut butter to heal and moisturize, divinely scented with geranium, rose and sandalwood essential oils.
KAHINA Fez Hand and Body Balm
This incredibly nourishing balm deeply moisturizes without being greasy. The ultimate solution for dry, chapped skin on hands, elbows and heels. The sultry FEZ scent is ideal for both men and women.
KAHINA Moroccan Beldi Soap in Eucalyptus
The ultimate skin cleansing and softening treatment straight from the hammams of Morocco.