Turn back the clock with our Brightening Serum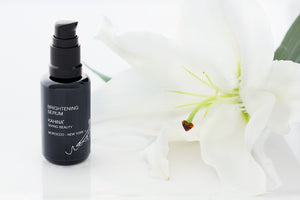 We're turning back the clock - on aging. It's that time again. As days shorten and summer tans – and glowing skin – fade, dark spots become more visible and complexions dull. Now is the time to reach for KAHINA™ Brightening Serum. Applied twice a day on cleansed skin,
KAHINA™ Brightening
Serum will leave skin radiant and even toned. KAHINA™ Brightening Serum is a delicately scented and lightweight serum that evens skin tone and reduces the appearance of hyperpigmentation through a combination of naturally derived actives. It also offers defense against UV rays and other environmental exposure. Key ingredients include:
Japanese Seaweed
(Undaria Pinnatifida) supports the skin's natural defense system, combating exposure to environmental stressors. Also known as "wakame", it protects the fibroblasts that produce collagen from UVA irradiation. It also inhibits tyrosinase activity, the enzyme that triggers melanin production in the skin.
Sea Daffodil
( Pancratium Maritimum) is a rare white lily that reduces the creation of receptors that activate melanin transfer in the skin, inhibiting hyperpigmentation. Dark spots as a result of hormone activity are also reduced by inhibiting the action of hormones that signal melanin cells to make melanin.
Spirulina
delivers perceivable firming and moisturization.
Pinus Pinaster
provides additional defense, shielding the skin from damage caused by everyday oxidative stresses while stimulating the regenerative processes of the skin. Studies have shown dark spot reduction up to 60% over six weeks. So you can reverse the damage from too much fun in the sun this summer before the holidays season officially sets in.