Our Prickly Pear Seed Oil Looks Better Than Ever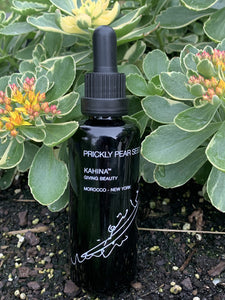 Our bestselling
Prickly Pear Seed Oil
, featured in
The Zoe Report
,
SELF
,and
Town & Country
Magazines, is now available in our signature violet Miron Glass bottles. Miron Glass helps to protect the precious oil within. Extremely rich in Vitamins E and K, essential fatty acids and antioxidants, prickly pear seed oil has been shown to:
Moisturize and soften skin
Balance oily and combination skin
Restore elasticity
Neutralize free radicals that cause signs of aging
Brighten under-eye circles
Minimize spider veins
Prickly Pear Seed Oil contains higher concentrations of vitamin E than in argan oil to repair skin and vitamin K to strengthen capillaries and reduce dark under eye circles and spider veins. Due to prickly pear seed oil's higher linoeic acid content, it is recommended for oilier, more congestion prone skin types in order to keep skin balanced. Prickly Pear Seed Oil moisturizes and balances skin, restores elasticity and minimizes spider veins and dark circles. Other common names for this oil include Barbary fig seed oil, Indian fig seed oil, and prickly cactus seed oil. Our oil is cold first pressed from the seeds and is not to be confused with macerated extracts of the flowers or fruits of the prickly pear cactus. TAKE IT FROM OUR CUSTOMERS:
Game Changer "I started using this oil around mid March and I am just starting to see these suttle improvements in my skin. Firstly, not sure if anyone else saw the same but, my skin has plumped up and that includes the slight hollows under my eyes. I use this oil under my eyes, upper lid and all over my face. I had started using this expensive skin care February 1 but didn't see much difference until I added this oil in my daily routine before the moisturizer. I think one of the previous reviewers said the same that this oil makes your skin care work better. I agree 100%. In my opinion, this oil plumps up your skin so lesser fine lines, I have a beautiful glow now and it does moisturize my dry skin. Love love love this oil, for me it's worth the cost." The Oily Skin Dilemma "For years I have tried many high-end major skin care products and niche brand products, mostly creams and the occasional oil-free. Despite claims, my face was annoyingly oily two hours after applying the products. I tried serums and matte primers and the oiliness appeared three hours after application! I saw a piece on argan oil and prickly pear seed oil and decided to give it a try. I did a lot of research to find what is considered the best, and that is how how discovered Kahina. The philosophy, the sourcing and the commitment to workers complemented the product quality. So I ordered both products about three weeks ago. I am a 66-year old male who is always mistaken for a 50 year-old, and I know it is because I have pampered my skin. In just three weeks I noticed 1) pigmentation is evening out; 2) there is a brightness to the skin I have not seen before; 3) it is too soon to assess the effect on aging skin, but I'm guessing it will be remarkable given what has happened already; and 4) my face is matte almost the entire day and only shows oiliness in the evening, and not to the extent of the past. It's amazing how oil handles oil without the residue and the dryness, all claims we have heard before. This is just the first time that. for me, the claims are true."
100% Organic Made in Morocco