Morocco's tradition of gifting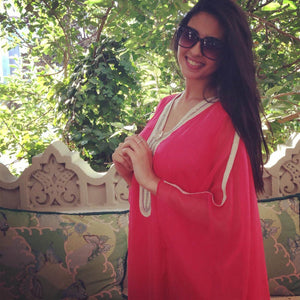 Rania Soussi Temli
The holiday season is almost upon us and our attention turns to securing the perfect gifts for friends and family. In Morocco, the gifting ritual is important all year long. We sit down with our newest Kahina team member, Rania Temli, to discuss the importance of gifting in Morocco.
As a pure Berber born in the South of Morocco and who grew up in Tangier, I was raised in a culture where expressing gratitude and appreciation is second nature. In Morocco, gift giving is intertwined with Islamic traditional belief. In Islam giving a present is one of the best ways to show love, respect, honor and appreciation towards another person. For this reason, people really value the concept of gifting. If you are invited to a traditional Moroccan family's home, you will most likely be given a lot of food and a 'thank you' gift for coming and accepting the invitation. A guest might receive olive oil, sugar cones or tea. Likewise, it is very appreciated for a guest to bring a gift to the hosts as a symbol of "thankfulness" or "A Choukr" in Moroccan. Typical hostess gifts are nuts, pastries, or flowers.
Join us in welcoming Rania to our Kahina family. She will be at ABC Home in New York City on Friday afternoons. Who better than Rania to help you find the perfect Kahina gift for someone you love?