Kahina Oil Cleanser receives Excellence In Green Beauty Award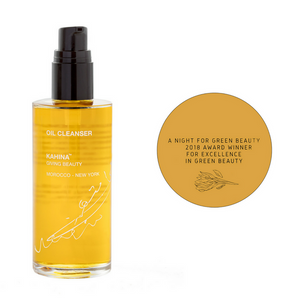 KAHINA™ Oil Cleanser has been awarded the first-ever "Excellence in Green Beauty" Award from A Night For Green Beauty. The A Night For Green Beauty team of judges selected our Oil Cleanser based on what they refer to as "the entire package standard" which includes the "finest ingredients, green science sustainable practices and sublime effectiveness."
To celebrate, take $5 off your purchase of our Oil Cleanser with code: ANFGB18AWARD at kahina-givingbeauty.com. Offer expires September 6.
A Night For Green Beauty was created in 2012 as a brand "awareness" event for the people creating green beauty and the fans that love it. After a three year hiatus,
A
Night For Green Beauty
returned on August 2 to showcase dozens of the world's leading green beauty brands to thousands of fans of green beauty.