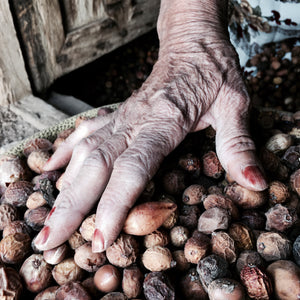 Since the inception of KAHINA™, we have committed to donating 1% of our revenue to the Berber women of Morocco in addition to paying a fair wage for their work. Thanks to our customers, are efforts are having a profound effect on the lives of these women and their families. This year, our donations:
Allowed two additional girls to continue their schooling beyond the third grade through Education For All, bringing our total to 12 girls who would not otherwise had this opportunity!
Generated income for impoverished communities through the planting of 2,000 fruit tree saplings for community run nursuries through the High Atlas Foundation, bringing our total to 12,000 trees creating a sustainable future for rural Moroccans.
As well as direct donations to the Berber women of the Anti-Atlas Mountains who crack the nuts for Kahina's Argan Oil as part of KAHINA™s Fair Trade initiative for the purchase of eye glasses and educational materials.
These donations are in addition to paying a fair wage for the work of harvesting and cracking the nuts for Kahina's argan oil. Watch the video to learn firsthand about the impact. https://www.youtube.com/watch?v=VnmZ3e_v-Bk