KAHINA™ celebrates 10 years - how it all began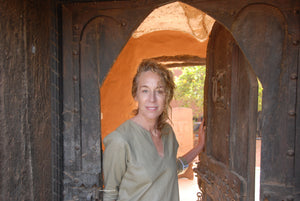 It was 10 years ago this week that I took my first fateful trip to Morocco. Nine months later, in the spring of 2008, KAHINA Giving Beauty was founded. To celebrate the 10 year anniversary of the founding of Kahina Giving Beauty, I will be posting a series of posts that mark certain milestones – and mishaps – of the first year. Read closely. There might be a quiz! Join me for a year-long adventure to celebrate our first 10 years! In September, 2007 I traveled to Morocco for the first time. My parents, aged 73 and 83 at the time, invited me to accompany them on a 10-day tour. I readily accepted the opportunity to travel to a country I had always wanted to go to, but was a bit wistful at leaving my husband and three young children. My parents were traveling from California and I from New York. The plan was for me to meet up with them in Casablanca. In the hectic farewell with my husband and children, I neglected to follow TSA rules for carry-on liquids and hastily packed my full-sized, and rather expensive, skincare products, which were unceremoniously confiscated at JFK's security checkpoint. I replaced these during a layover in Heathrow, only to leave them behind at The Royal Mansour Hotel in Casablanca, our first stop. Our ten-day tour took us from Casablanca to Fez, then down to the desert for camel rides in the dunes at sunrise, and finishing with a luxurious stay at the Amanjena in Marrakech.
A view of Fez
Entrance to the Ben Youssef Madrasa in Marrakech
The Merzouga Dunes
We traveled with a guide who I still consider a friend, Majid Alaoui. It was Ramadan, and the practice of the month-long fast, combined with Majid's deep spirituality, encouraged long conversations over many miles about the true nature of Islam, offering an eye-opening introduction to Moroccan culture. As we were not participating in the fast, we were able to enjoy the delicious flavors (and wines to our pleasant surprise) of Morocco. By the end of the ten days, the food, the scents, sounds, people and colors had me hooked. In the same span of time, my skin had become dry as dust.
At the apothecary in Marrakesh
It was on the last leg of our tour, on our last day in Marrakech, that I discovered argan oil in an apothecary in Marrakech. A kind man served me sweet mint tea while expounding on every spice and medicinal treatment on the shelves, eventually introducing me to argan oil, and telling me of its benefits and the fascinating story of its sourcing.
This was before argan oil had become known in the US. I had never heard of the oil before, nor was I in the practice of using pure oil on my face. I bought a flask of the oil and brought it home to New York. My skin, which had historically been combination dry/oily was balanced for the first time ever. I loved how light it felt on my skin in contrast to the rich creams I'd been using. This was an epiphany for me — that a pure oil, used for centuries by women in a country across the world could be more effective than anything I had found at home. Stay tuned for more…
WHERE WE STAYED:
CASABLANCA: ROYAL MANSOUR HOTEL FEZ: PALAIS JAMAI DESERT ENCAMPMENT IN THE MERZOUGA DUNES OURZAZATE: HOTEL BERBERE MARRAKECH: AMANJENA TOUR GUIDE: MAJID ALAOUI AT
TOUR OF FEZ
In loving memory of Alex and Bob Phillips, who showed themselves to be intrepid travelers, taught me to always find joy, and encouraged me to follow my dreams.