INTRODUCING THE ULILI FOR KAHINA CANDLE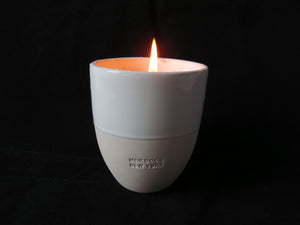 A shared passion for Morocco and its traditions, combined with care for the environment and love of good design, brought founders Katharine L'Heureux and Omar Benjelloun together in this very special collaboration. The result is a beautifully scented candle that evokes the rich and romantic history, landscape and culture of this magical North African country, handcrafted in a clean and contemporary design. These candles, custom designed by ULILI Moroccan Scents for KAHINA™, are cast in partially glazed ceramic jars subtly stamped with the Morocco – New York emblem that graces all of KAHINA™ products and represents the uniting of two cultures. They are carefully crafted from vegetable wax and beeswax harvested at the base of Morocco's Rif Mountains and scented with cedar, clove, ylang ylang, and orange blossom essential oils. "The inspiration source for the KAHINA™ candle is the Atlas cedar," says Omar. "This precious oil is an iconic material from Morocco and reminds me both the roof of the 1200 years old Karaouine Mosque in Fes and the majestic forests of Middle Atlas Mountains. In order to explore the sensuality of this warm and woody note, we matched it with a velvety ylang ylang and a glowy neroli. Clove and patchouli give a last earthy spicy touch to the KAHINA™ Scented candle."
ABOUT OMAR BENJELLOUN ULILI Founder, Omar Benjelloun uses scented memories of his childhood in the Atlas Mountains of Morocco as his inspiration. Omar studied perfumery at the Grasse Institute of Perfumery. ULILI candles are currently sold in Bergdorf Goodman in New York, and at select boutiques internationally. TO USE For best performance, burn candle for a maximum of 2 hours. Keep wick trimmed regularly to 5 mm. A burning candle should never be left unattended. A candle must never be placed on a material sensitive to heat. BURN TIME: 40 hours SIZE: 200 grams/ 7 oz. Each candle comes in a beautiful two-piece gift box, making the ULILI FOR KAHINA CANDLE the perfect gift. Shop the Ulili for KAHINA™ candle
here
.