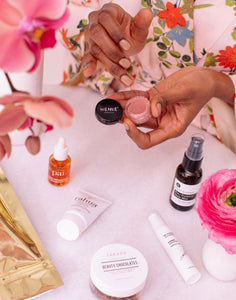 We are honored to partner with KAHINA retail partner
CAP BEAUTY
and
Sakara Life
in their EAT PRETTY 2019 Campaign. Sakara Life is offering a week of beautifying meals paired with a collection of CAP's favorite beauty products for ultimate radiance, including a deluxe sample of the KAHINA Oil Cleanser. To celebrate this partnership I answered some questions for CAP about what Eating Pretty means to me.
From Katharine L'Heureux, Founder of Kahina:
What does "eat pretty" mean to you?
Unleashing the powers of plant nutrition to enhance health and well-being by optimizing our bodies' functions. That means healthy fats for glowing skin, probiotics for gut health, amino acids and adaptogens for improved cellular function, and avoiding inflammatory foods.
Has food and beauty always been inextricably linked or was there an experience that led you towards holistic way of thinking about food?
I have had a complicated relationship with food in my lifetime. The mental shift from counting calories to embracing food for health and beauty has been life changing. It started for me about 15 years ago when I started growing organic vegetables in my garden and became more connected to my food supply. That was around the same time that I became interested in natural beauty remedies. I swear my skin is better now than it was ten years ago.
Which meal makes you feel most beautiful?
I would have to say breakfast is always the meal when I feel most optimistic about the possibilities of food to improve mood and performance. I love starting my day with the CAP 8 O'CLOCK powder in my tea. ABOUT CAP: CAP is rooted in the philosophy that beauty stems from vibrant health. And vibrant health begins within. From the inside out and outside in. Here's what they have to say about our Oil Cleanser: "Join the cult of oil cleansing and say hello your cleanest, dewiest, most nourished skin. Dissolve makeup and the impurities of modern living while infusing your skin with hydrating, antioxidant rich botanicals. With anti-inflammatory turmeric, healing blue tansy and calendula, this golden oil soothes, detoxifies and delivers radiance. It's unique formula leaves no residue and rinses with simply water. No double cleansing required."
ABOUT SAKARA: Sakara is a wellness company anchored in food as medicine. Sakara delivers organic, plant-based meals and functional products to your doorstep. Sign up for your EAT PRETTY program, pairing clean food with clean beauty at
sakara.com
.