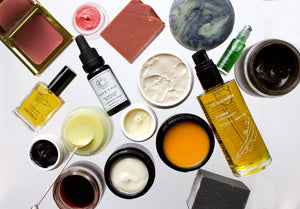 After a three year hiatus,
ANFGB
returns featuring dozens of the world's leading green beauty brands. On August 2, the green community will once again gather, virtually this time, to showcase the finest green and natural products directly to thousands of customers and fans.
KAHINA will join in the celebration with special promotions and a giveaway.
KAHINA™ was selected among thousands of entries for its non-toxic INCI list, lovely packaging, concise brand message, company integrity and product efficacy. When we participated in ANFGB at its first event in 2013 in NYC, it felt like the beginning of a movement. We've participated in every one since then and are excited to be part of this year's event - this time virtually. Join us on
August 2nd, from 7-9pm EST on Instagram
to celebrate the power of green beauty.
We'll be offering a special promotion and an exciting giveaway
. Follow @
kahinagivingbeauty
and @
anightforgreenbeauty
on
instagram
and the hashtag
#ANFGB18
as we announce our plans over the coming days and weeks. We hope you join us and the green beauty community to celebrate on August 2. ABOUT A NIGHT FOR GREEN BEAUTY A Night For Green Beauty was created in 2012 as a brand "awareness" event for the people creating green beauty and the fans that love it. In 2013, ANFGB exhibited in NYC highlighting pioneering brands in the new natural beauty category. Over 500 fans, customers, press and retailers attended a crowded space in the Flatiron District and helped to catapult an emerging industry. In 2014, ANFGB exhibited in Los Angeles and in Chicago in 2015.